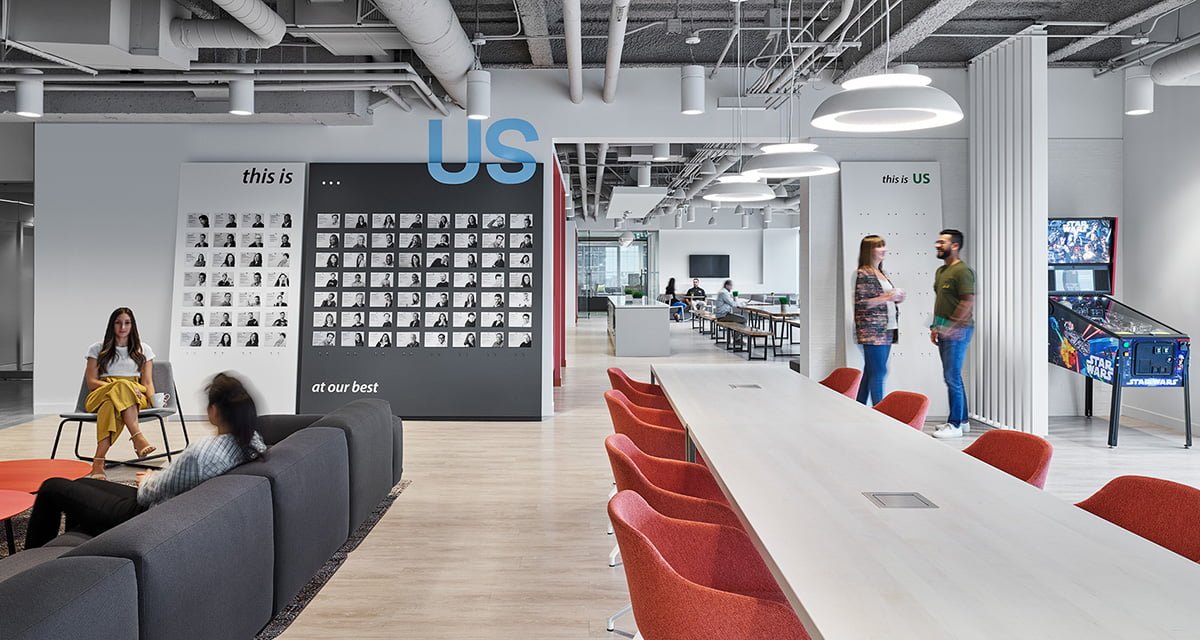 A lot goes into making a successful, hassle-free office move and if you hesitate to go for the finest Movers out there, you might end up getting disappointed and your properties might suffer damage.
It goes without saying that relocations are not something you do suddenly without proper planning and preparation because at the end of the day you are literally uprooting your life from one place and moving to another place, and as a result, great work needs to go into planning every move no matter how small it may be most especially when it has to do with your workplace.
But the good news is that you don't necessarily have to be the one to do the work anymore. What do I mean? There are professionals available to handle all your moving needs and take the stress off of you so you can focus on your new adventure in a new environment.
In regards to that, this article covers a curated list of the best commercial and office movers in Toronto so you don't have to break a sweat while you plan your move. Plus, you'll also get guidelines and tips on what to do when it comes to making a move and how to spot a reliable moving company to make the decision-making process a lot easier for you.
How Much Do Movers Cost In Toronto
First and foremost, before presenting this list to you, I think it's fair that you know how much to budget and how much you should spend on hiring commercial movers in Toronto. Of course, the cost of your move will depend on a number of factors such as the size of the project, the distance, destination, seasonality, the moving company, etc.
Most times, you will be charged hourly for local moves. However,  long-distance moves usually follow a fixed fee. Anyways, to give a hint on what it might cost you to make a commercial move in Toronto, here are some rough estimates you can use as a price anchor.
| | |
| --- | --- |
| Project | Average Estimate |
| Local moves  | $615 |
| Packing and Moving  | $2862 |
| Long-distance move (small apartment to two-bedroom house) | $957 |
| Studio | $400 |
| Tips | $25-$50 |
The Best 10 Commercial and Office Movers In Toronto
1. Let's Get Moving & Storage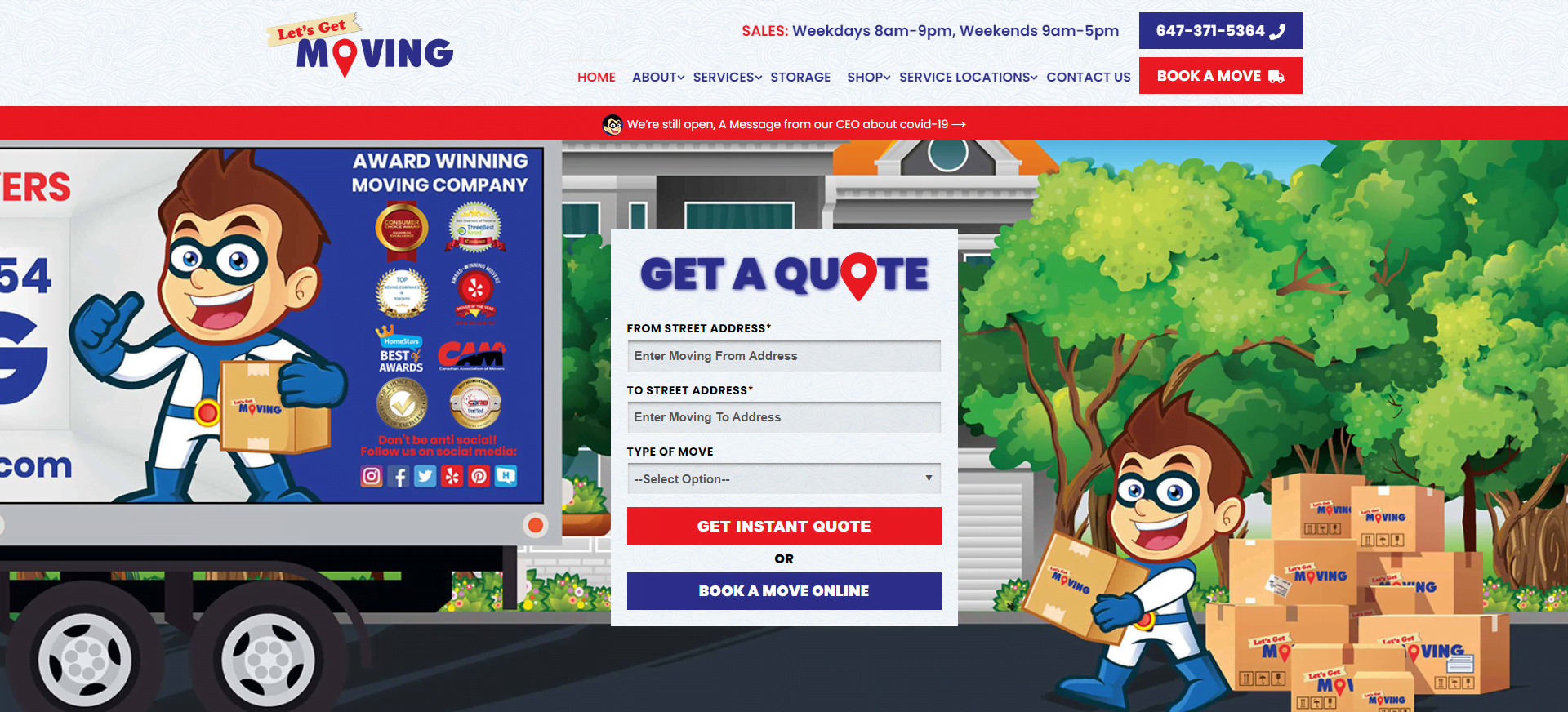 SERVICES

Small to large office spaces

Retail stores

Warehouses

Government agencies

Agricultural centers

Manufacturing chains

WEBSITE

ADDRESS

945 Wilson Ave #7, Toronto, ON M3K 1E8

CONTACT DETAILS

Phone: (416) 752-3254

Email: sales@LetsGetMovingCanada.com

OPERATING HOURS

Weekdays 8 am – 9 pm

Weekends 9 am – 5 pm
Let's Get Moving is a multi-award-winning moving company that provides moving services to the GTA, Ontario, and Quebec residents. With over ten years of outstanding customer service and treatment, they won the incredible Yelp moving award from 2016 to 2018 (2 years in a roll!)
The staff and management at Let's Get Moving company view every customer as kings and queens so they treat them as much. This exclusive approach to meeting their customer needs has led them to win the consumer choice award in 2020 and the Best of Homestars award in 2020.
Their reputation definitely precedes them and they do their best to make sure every customer leaves with a big smile on their face.
SERVICES

Residential

New store setup

Warehouses

Retail closures

Store rearrangements

Small and big office moves

WEBSITE

ADDRESS

270 Rexdale Blvd, Etobicoke, ON M9W 1R2

CONTACT DETAILS

Phone: (647) 691-4436

OPERATING HOURS

Monday to Friday: 8 am – 6 pm

Saturdays: 9 am – 5 pm

Sundays: 10 am – 2 pm Eastern
If you live in the Etobicoke area, You Move Me is the moving company for you. You Move Me started officially as a business in 2014 and has since then experienced massive progress on every side. They have excellent reviews on Google and Yelp and they always put your needs and requests in front from start to finish.
To keep to the aim of making sure every move is a breeze for you, they use a simplified and easy-to-understand system when attending to their customers. Having such a flexible system makes it easy for them to create customized solutions to your moving demands.
They are a great option to consider for local moves in Etobicoke and the surrounding areas.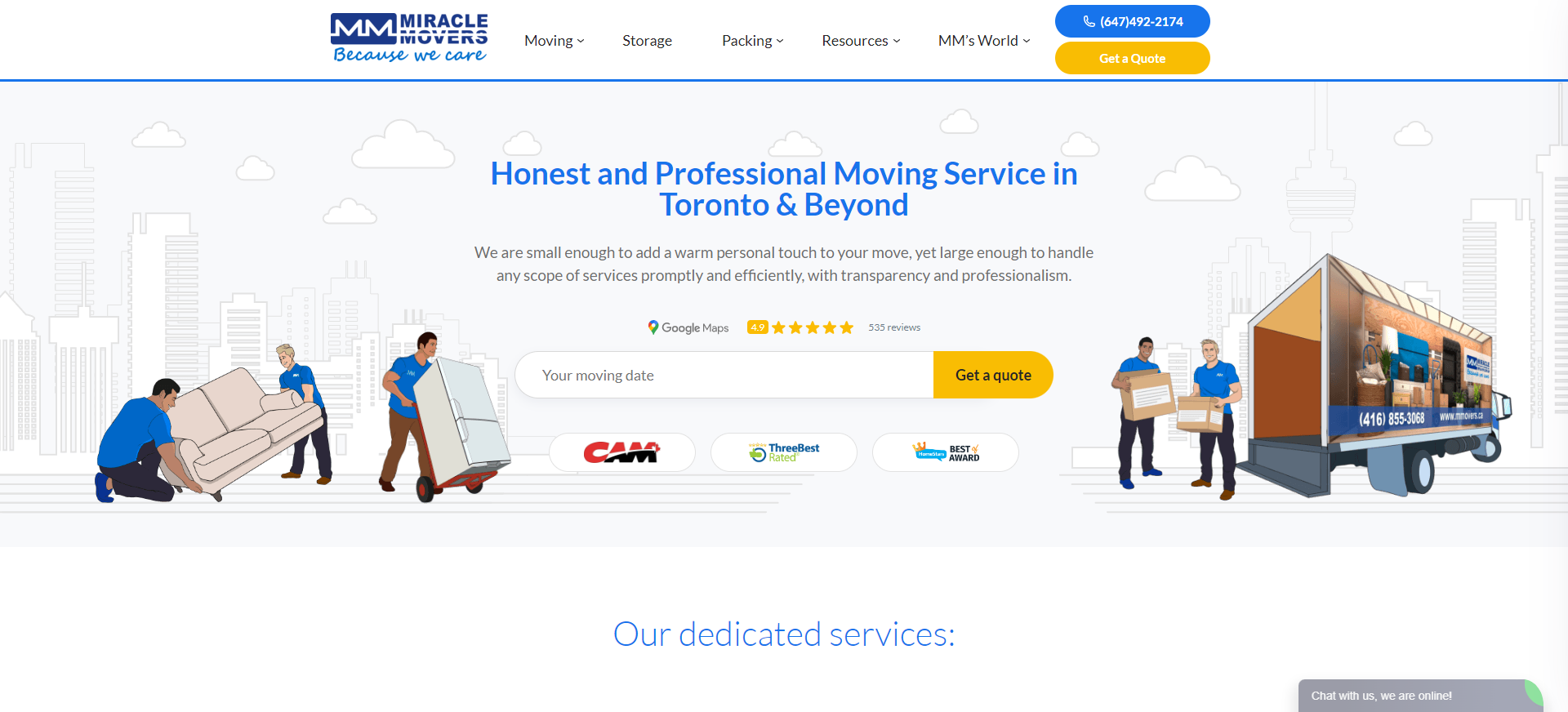 SERVICES

Government agencies

Airports

Law Firms

Accounting Firms

Non-government agencies

Real estate agencies

Designing and staging companies

WEBSITE

ADDRESS

1415 Yonge St, Toronto, ON M4T 1Y7

CONTACT DETAILS

Phone: (647)699-2540

OPERATING HOURS

Monday to Friday: 8 am–7 pm

Saturday: 8 am–6 pm

Not open on Sundays
The Miracle Movers answer to their names because they make every move feel like it's a miracle and you are left delighted than ever before. They've been serving the beautiful people of Toronto and beyond since 2008 and they've never done below the expectations of their customers.
The way the staff and workers at Miracle Movers handle office moves is one fascinating activity to watch and be a part of. They go all the way to make sure your property gets to the right destination safely and that you don't have a single worry or reservations.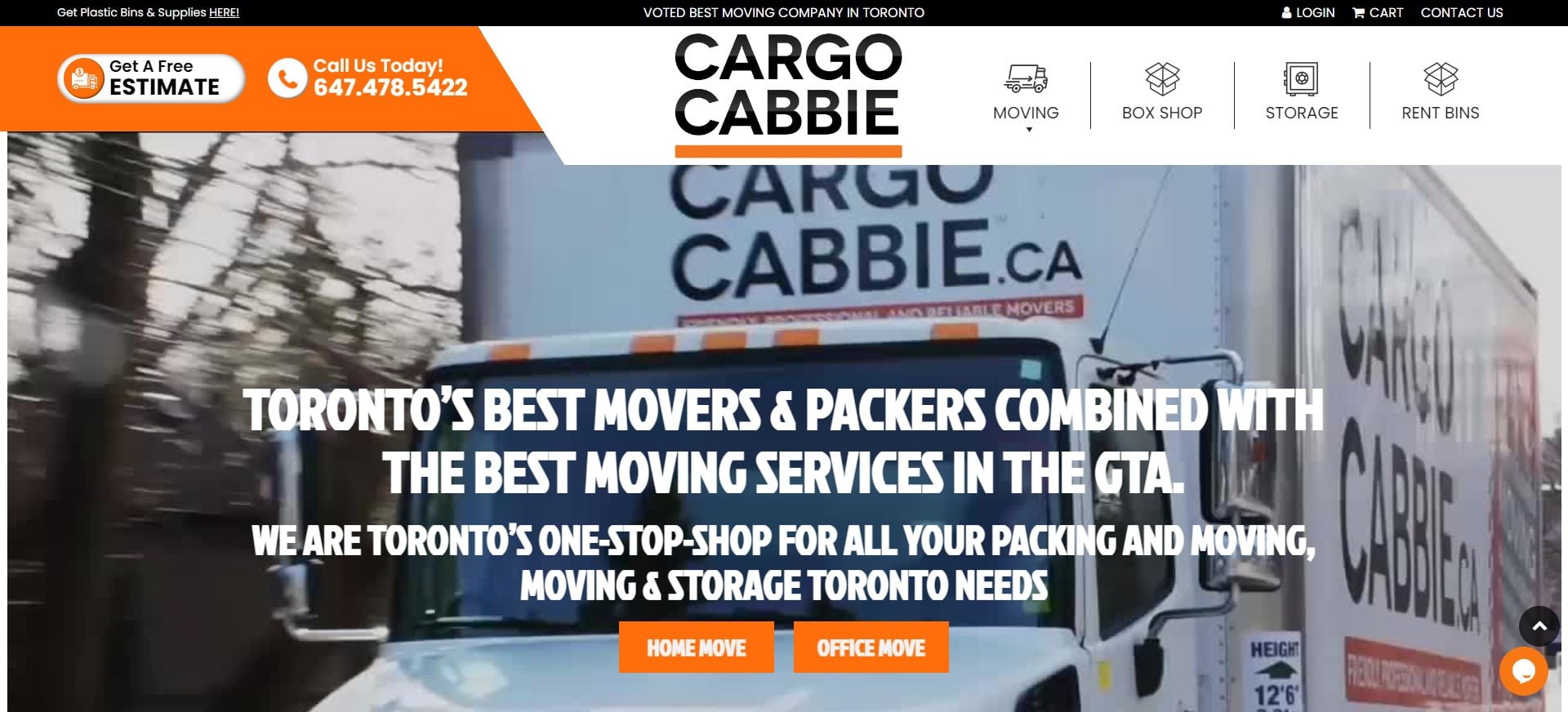 SERVICES

Storage

Services for packaging

Rent a Plastic Bin

Removing furniture

Single-Item Delivery

Moving Specialty

Assembling Furniture

WEBSITE

ADDRESS

105 Brockhouse Rd Unit #100, Toronto, ON M8W 2X1

CONTACT DETAILS

Phone: (647) 478-5422

Email: info@cargocabbie.ca

OPERATING HOURS

Monday to Friday: 8:30 am–5:30 pm

Saturday: 10 am–2 pm

Sunday Closed
Cargo Cabbie is a beautiful moving company because of how they welcome and treat every customer as family. The warm treatment and patient spirit to understand every word you say are definitely the fundamental factors that have made them the industry-leading professionals they are today.
The quality of their service speaks for itself and they've received several recognitions in the industry. They have been named "Best Business of 2021" by ThreeBestRated, "The Best Movers in Toronto" by BlogTO since 2014, and "Best Movers Toronto" by HomeStars more times than we can count.
All these awards and accolades just go to show how exceptional their customer support system is and why you should also consider them as an option for your next move.
5. Inner City Moving & Storage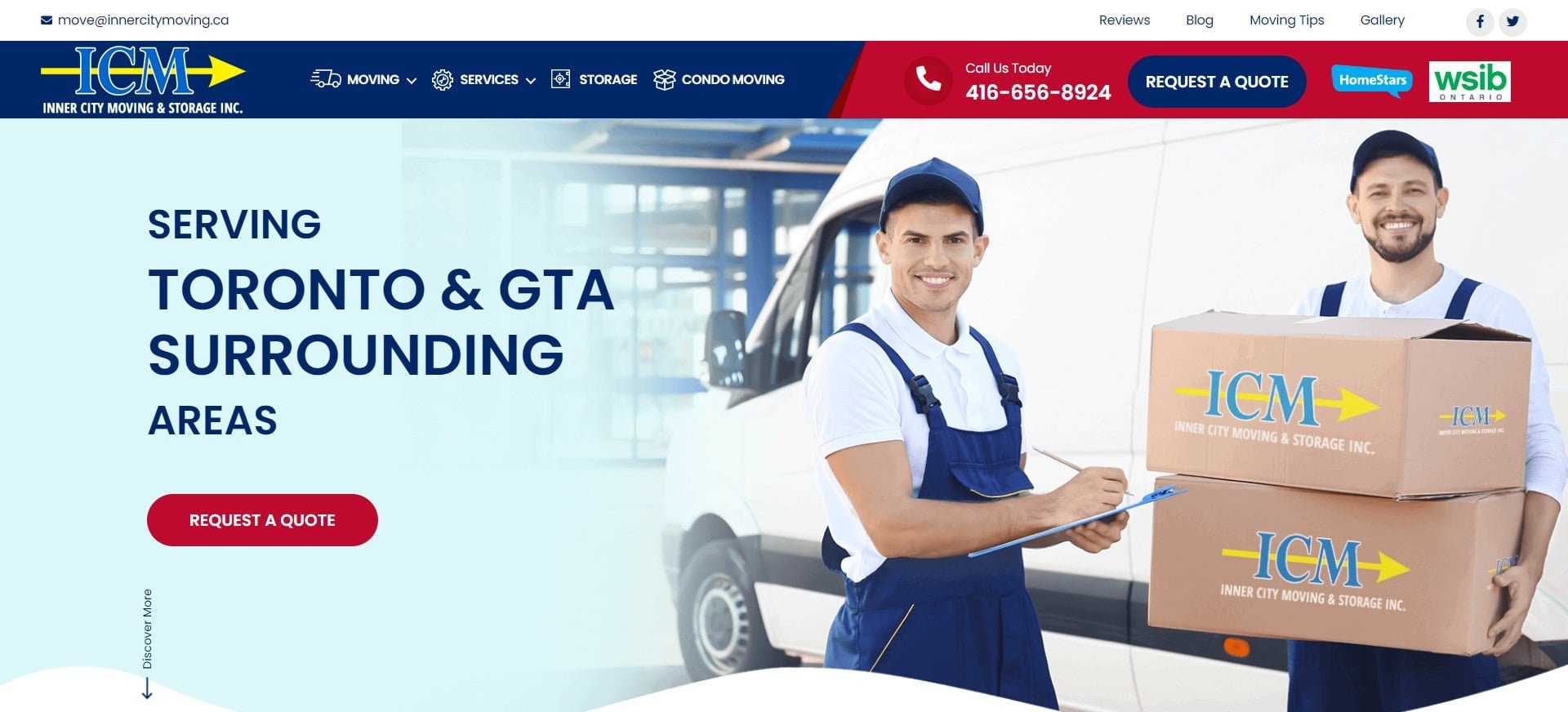 SERVICES

Commercial Movers

Local Moves

House Moving

Office Moving

Packing and Unpacking

Specialty Moving

Packing Supplies

Condo, Loft & Studio

WEBSITE

ADDRESS

20 Camden St, Toronto, ON M5V 1V1, Canada

CONTACT DETAILS

Phone: 416-656-8924

Email: move@innercitymoving.ca

OPERATING HOURS

Monday to Friday: 8 am–7 pm

Saturday: 9 am–5 pm

Sunday: 10 am–4 pm
The Inner City Moving Company is best known for their unbeatable service in the office relocation space. They stand out as a great moving company particularly in Toronto because of how they document and meet customer demands to satisfaction and at the same time ensure the customer has no issues at all along the way.
They service residents in the Greater Toronto area and beyond to make smart moves that won't bring any headaches whatsoever. If you need a company that can save you the stress of doing certain work yourself before the move day, then Inner City Moving is the solution you've long been looking for.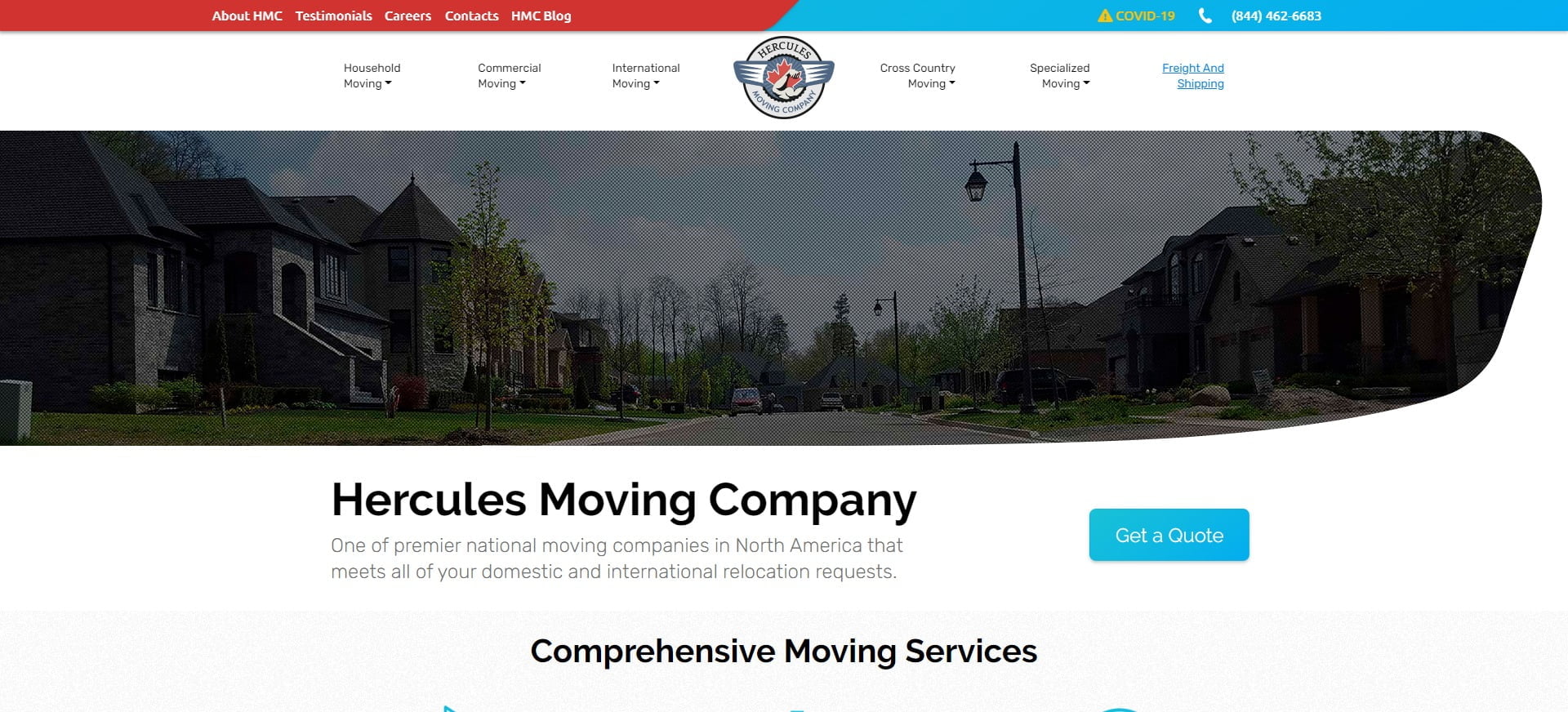 SERVICES

Piano Moving

Packing and Unpacking

Moving and STORAGE

Long & short distance move

WEBSITE

ADDRESS

25 Wood St, Toronto, ON M4Y 2P9, Canada

CONTACT DETAILS

Phone:  647-952-6525

Email: sales@herculesmoving.ca

OPERATING HOURS

Monday to Friday: 8 am–8 pm

Saturday: 8 am–8 pm

Sunday: 8 am–8 pm
With a huge portfolio of delighted new and existing clients. Hercules Moving has all the resources, brainpower, and manpower to tackle every moving job and give you the best experience you can ever ask for in a moving company.
And to ensure that you get top-notch moving services from them, they employ competent and hardworking professionals into their team of workers and that has shown in how professional and unique their application process is and how they handle your items to facilitate safety and avoid every form of accidents.
They have an impressive track record and are always available to attend to all of your moving needs. All you have to do is simply make the call and they will be right over at your place to take your orders!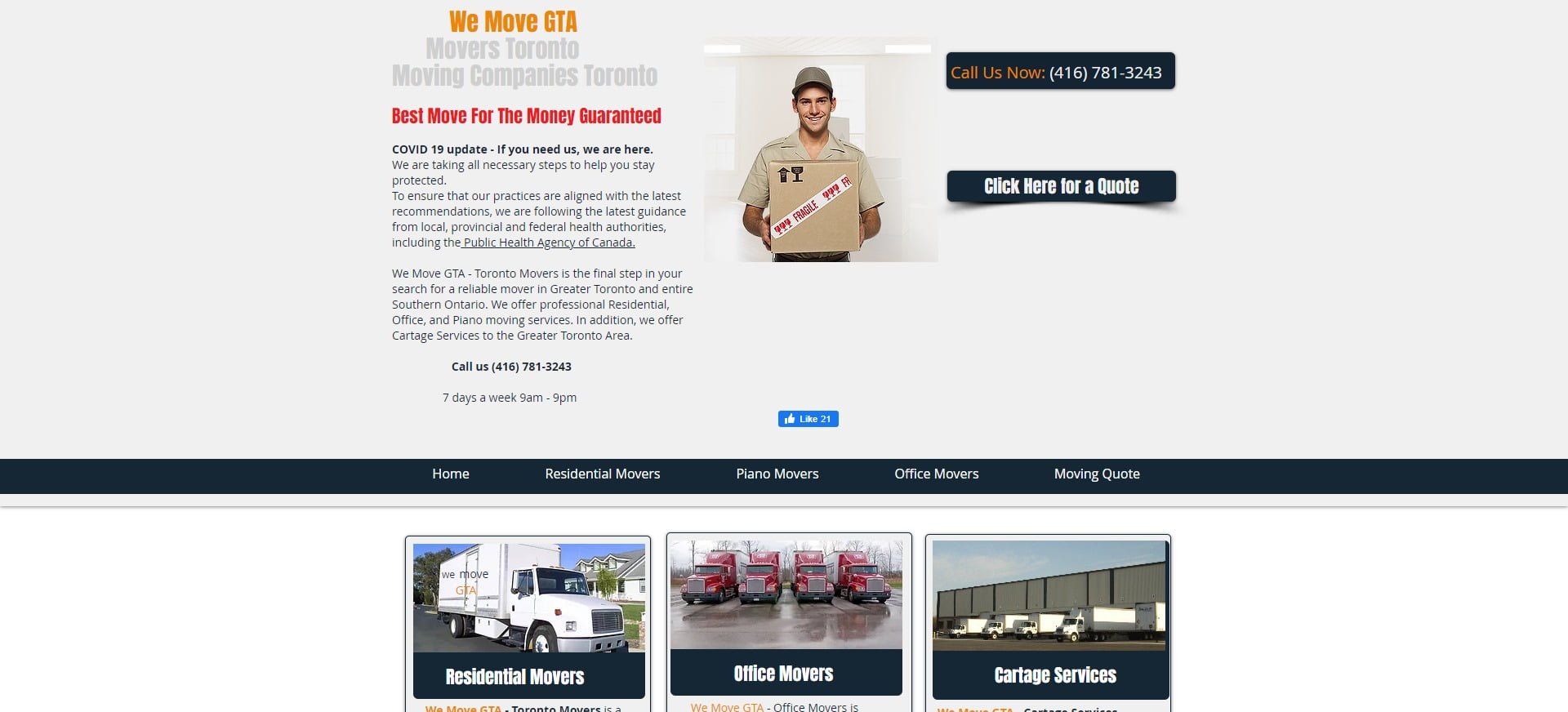 SERVICES

Residential/Office/Piano moving services

Cartage Services to the Geater Toronto Area.

WEBSITE

ADDRESS

1 Yonge St Suite 1801, Toronto, ON M5E 1W7, Canada

CONTACT DETAILS

Phone: 416-781-3243

Email: info@wemovegta.com

OPERATING HOURS

Monday to Sunday: 9 am–9 pm
Office or any business relocation to be honest can, if not handled properly, lead to company downtime, but We Move GTA came into the industry to try and reduce company downtime as much as possible. And they've been able to achieve this by making sure that every move is on time and on budget.
One thing we admire most about We Move GTA is that the minute you make a request and give them all the details of the project, they literally take everything off your shoulder and put it on theirs. To the point that they even do weekends and after-hours moves just to see you satisfied.
8. Your Friend With A Cube Van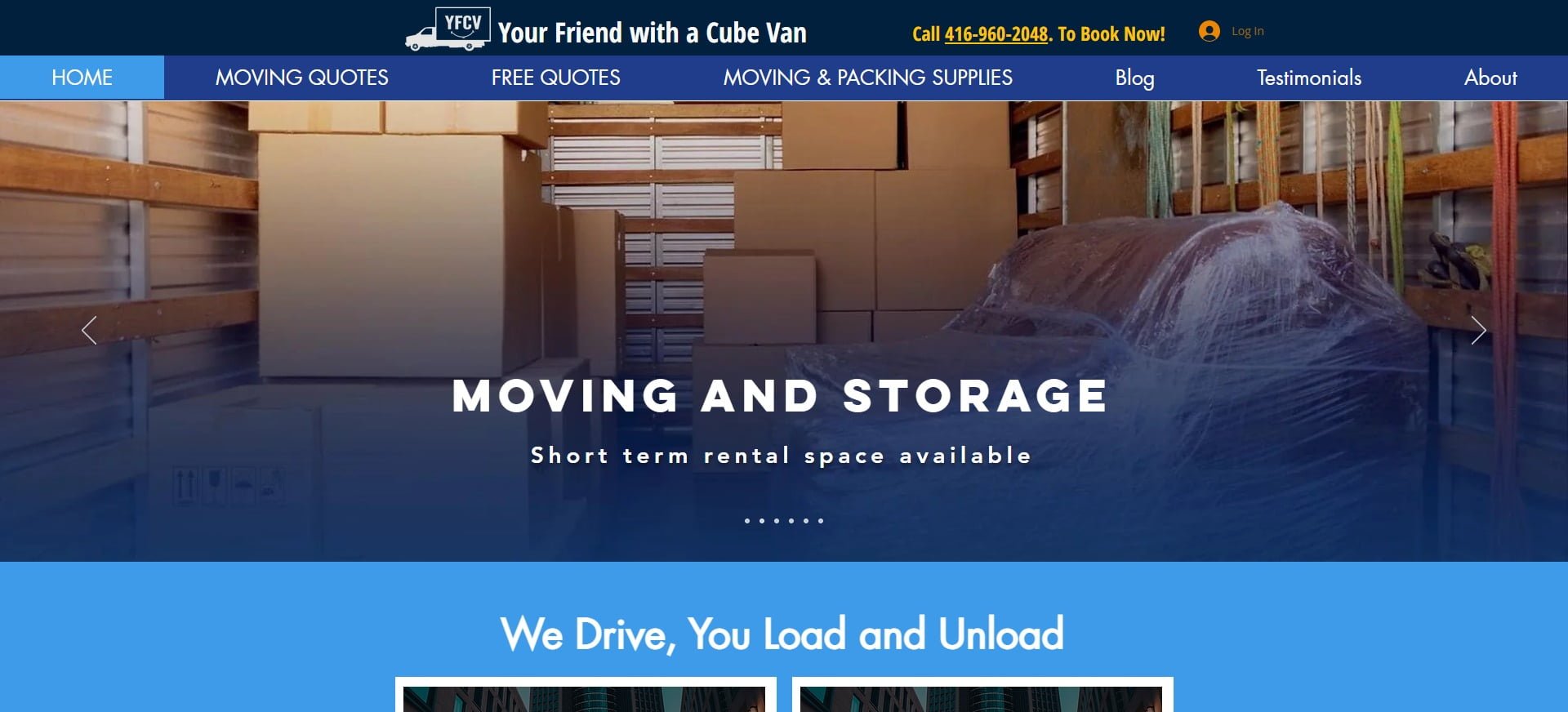 SERVICES

Condo, Apartment, House

Office Moves

Cargo Van Moves

Packing Services

Furniture Assembly

Boxes & Supplies

WEBSITE

ADDRESS

389 Dundas St E, Toronto, ON M5A 2A6, Canada

CONTACT DETAILS

Phone: 416-960-2048

Email: info@yfcv.ca

OPERATING HOURS

Monday to Friday: 8 am–4 pm

Saturday: 9 am–4 pm

Sunday: 9 am–4 pm
Your Friend With A Cube Van has over the years, since it was founded, captured the hearts of the people of Toronto like never before. They specialize in office moves and as a result, understand the ins and outs of how it works and the challenges involved.
Because the reality is that relocating your office is not an easy task. It's a difficult one but when you have experts handling the job what should you worry about, right? Your Friend With A Cube Van uses (to avoid complication) a simple and straightforward process to meet the commercial moving needs of their client.
They understand how valuable a business is to the owner because they also own a business so they use that approach and understanding to make every office move as stress-free, enjoyable, and memorable as possible.
It's always better to have the pros handle moves like this that involve your business because you can't afford to damage your own properties or assets so when next you will be relocating your office, Your Friend With A Cube Van should be among your list of suitors.
9. Your Friend With A Cube Van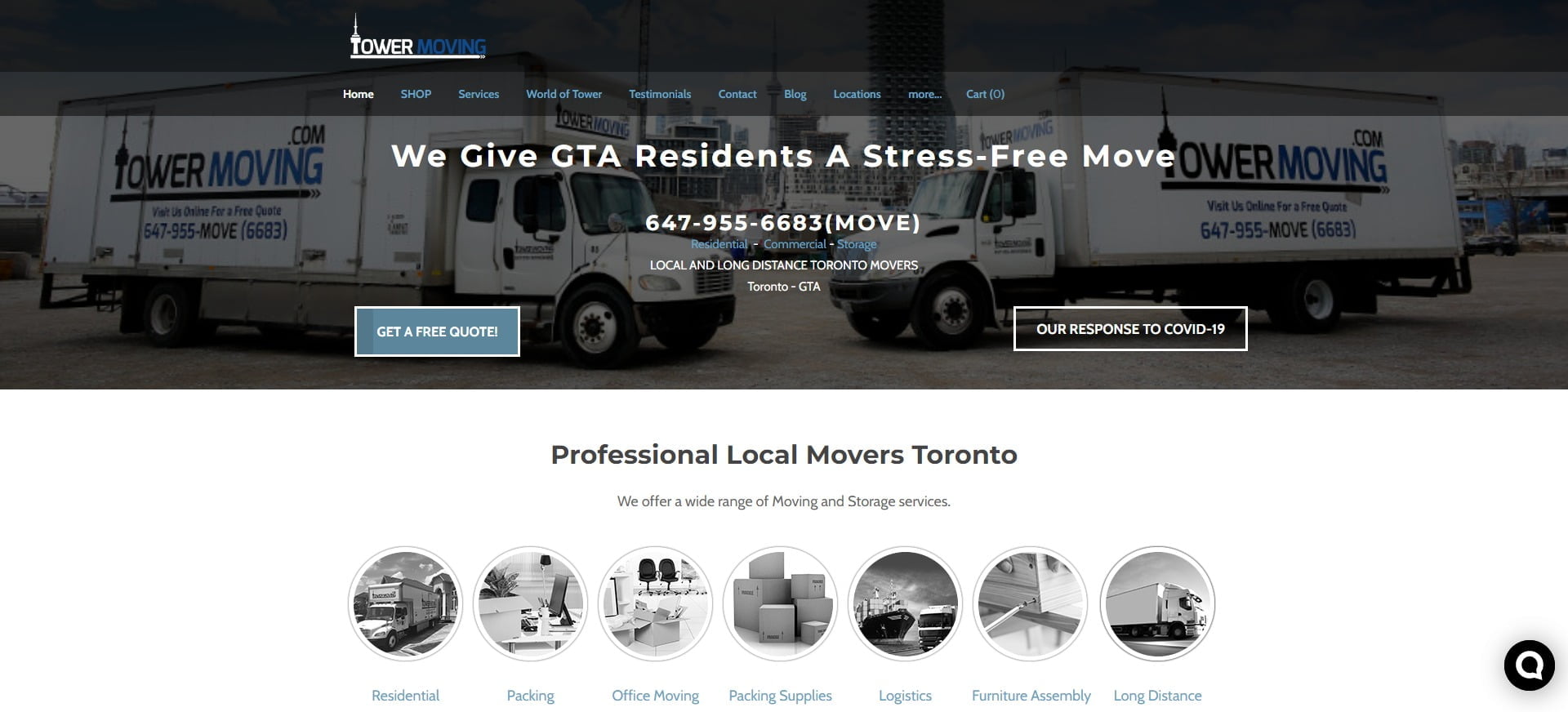 SERVICES

Full-scale office relocations

Packing up your workspaces

Furniture disassembly and assembly

Carefully transporting furniture, computers, files, boxes, and networking equipment

Unpacking and setting up your business in its brand new location

Short and long-term storage

Decommissioning

​​Specialty item moves

Local and National moves

WEBSITE

ADDRESS

1 Yonge St, Toronto, ON M5E 1W7, Canada

CONTACT DETAILS

Phone: 647-955-6683

Email: info@towermoving.com

OPERATING HOURS

Monday to Friday: 9 am–6 pm

Saturday: 9 am–5 pm

Sunday: Closed
No matter the size of the project, big or small, the Tower moving company don't settle for less. They go above and beyond to make sure your move is a massive success and that all your properties are intact from start to finish.
As a commercial and office moving company in Toronto, they've completed a lot of office relocations for clients around the city. They put client satisfaction first before any other thing. They believe the primary aim of any business is to solve the problems of its patrons.
That mindset of making their customers top priority has trickled down into every they do and that has been the major reason why people love them and enjoy working with them. It will be a great delight to hire the Tower moving company as your personal movers because they don't deliver below-average results.
SERVICES

Workstations, tables, and shelves can be assembled and disassembled.

Furniture and workspace are well protected.

Creating a new workplace floor plan

Office packing services

Relocations

IT equipment moving

WEBSITE

ADDRESS

205 Bentworth Ave, North York, ON M6A 1P8

CONTACT DETAILS

Phone: 647-997-5481

Email: inquiries@neweramoving.ca

OPERATING HOURS

Monday to Friday: 9 am–5 pm

Saturday: 10 am–2 pm

Sunday: Closed
Located in the beautiful city of Toronto, New Era Moving company brings something different and interesting to the moving industry. They provide more than just office relocations and the reason behind that is that they want you to find everything you need to make a successful business relocation in one place saving you the time and energy of hiring two or three different movers for a single commercial move.
Their 24/7 customer service system makes them available all the time to answer your calls and attend to all your queries or demands. They try to treat every client differently because they understand that no two jobs are the same, therefore, they create custom moving plans for clients who have special moving needs.
New Era Moving company is definitely a great choice to consider whenever you plan to make any office or commercial moves.
What To Look Out For In A Commercial and Office Mover
Only hire moving companies who tick all the following boxes:
Scheduling
Here you will have to make sure the mover can accommodate your move in their schedule and show up on the appointed day. Because some movers operate a very busy and tight schedule so you must be well aware of their schedule arrangement before you book them.
If you need an urgent move then a company that offers last-minute relocations is the one you should call first.
Transportation
The moving company must be able to provide you with the best transport system to properly cover all your items and properties. Large objects like pianos and furniture would need a large transportation vehicle. So, in essence, the transportation must be enough to fit the kind of things you want to move.
Types of Moves
Make sure the mover you will be hiring has in their list of destinations the place you are relocating to. You don't want a situation where it is after you've processed everything and then you later find out that they don't cover the distance you picked.
Service Coverage
You must know what you want and look for a mover that can deliver on those demands. Moving companies offer services like storage, packing, and unpacking. So if you are the type that will prefer a company that will handle everything about the move from start to finish, then look for a mover that does exactly that.
Credibility & Reputation
The credibility and reputation of the mover are two very important factors to consider. You want a moving company that can give you the best service for your money. Make sure the company is registered, insured, licensed, and accredited by the appropriate authorities in Toronto. 
Social proofs like reviews and testimonials are another great way to know the credibility and reputation of a particular moving company.
Pricing Package
Price is a key factor that you can't leave to chance or luck. You must carefully understand and consider a moving company's pricing plans before anything. Prepare your budget but ensure you have a portion for emergencies or if things go sideways.
The fact is anything can happen and you must be prepared financially when it does.
How To Prepare Ahead Of A Move
Fix a date for the move and make sure you keep to it.


Reach out to third-party helpers to ensure you secure a spot in the busy schedule of most moving companies and also contact any reputable insurance company to inspect and ensure the safety of your properties throughout the move.


Pack carefully and orderly. Sort through all the items and objects you want to move and arrange similar objects in one box to keep things organized and in good condition right from the start. Also, don't overstock your packing boxes because it might lead to unexpected damage. And if possible, arranging and packing your things on time ahead of the arrival of the mover would be really helpful to save you and the mover time.


Put a label on every item or box so that you can easily identify it when the time comes. Also, for fragile goods, make sure you place a bold label so the movers know how to handle it to prevent damage.



Prepare your budget ahead and include any extra costs that may come up so that you don't go out of budget. Additional charges like insurance, fuel, etc should be considered as well.
Frequently Asked Questions
To move a 2 bedroom apartment in Toronto will cost you somewhere around $500-$900 and that's for a 6-hour long relocation. So, your budget should be around $1000 should in case something else comes up.
To determine the costs of a local move, you'll need to multiply the average time it's going to take to complete the move by the hourly rate of the company you will be using.
On average, the weight of a 4 bedroom house is approximately 6,000 pounds. So it can definitely add up if you are moving heavy appliances like refrigerators or ovens.
We've come a long way starting from the beginning of this article and now we are here. The companies you've been introduced to in this article are one of the best commercial and office movers in Toronto and can definitely help you out in making the most enjoyable relocation.
I hope you got value from everything you've read so far and that it helps you in planning a better move next time. 
Now over to you, do you have any questions or suggestions about a moving company that you feel deserves to be on this list? If yes, let us know in the comments below and we will be sure to review them as well!