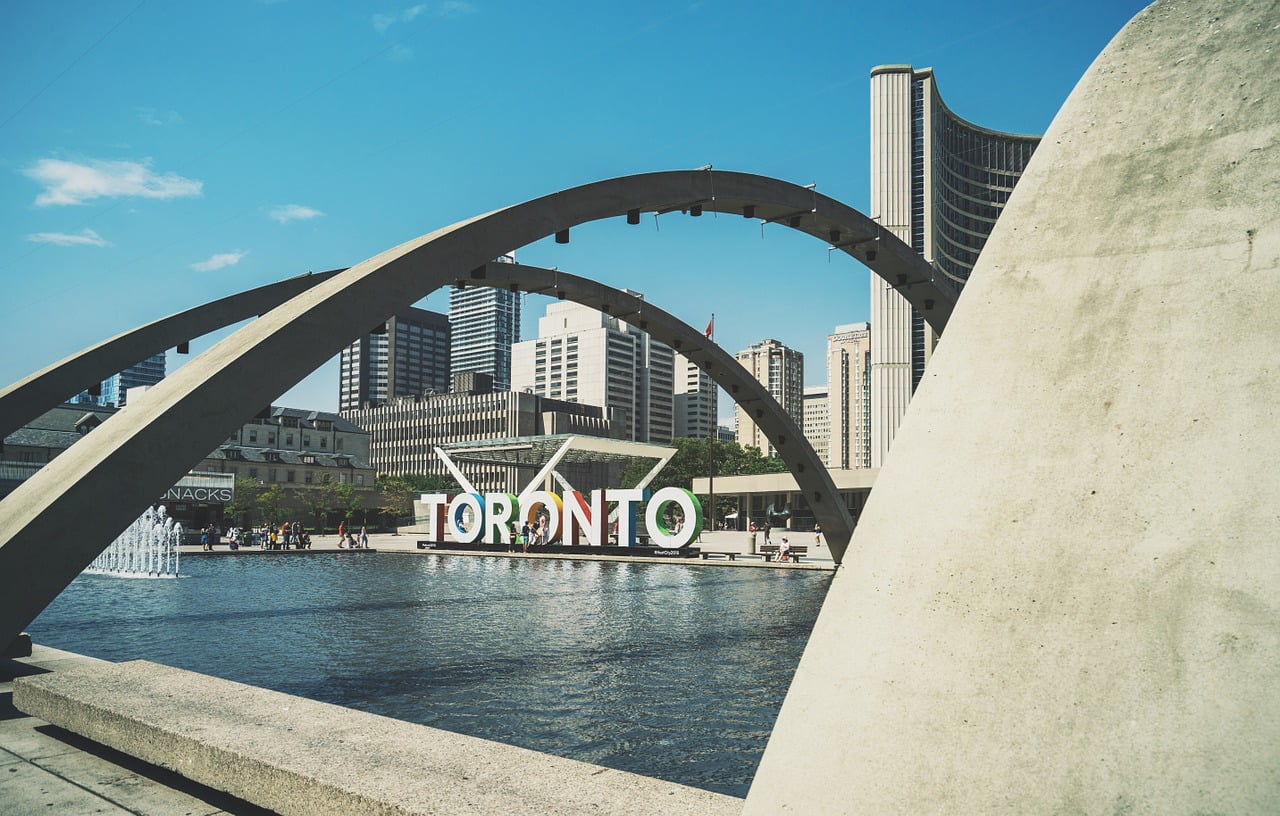 Top 10 Affordable and Best Moving Companies in Toronto
You never know how much stuff you own until it's time to move out. That's right. Your furniture, antique showpieces, and other appliances must be packed and carried safely. Because the last thing you would want is a scratched or damaged item, you love.
Organizing small and light items like clothes, curtains, shoes, or other equipment is another battle. The solution is to leave this responsibility to a professional in this field. They will survey the whole area, be it an office, residence, or other venues, and plan the moving process according to it.
That sounded great until here. But, how do you find a trustworthy moving company? No worries. According to experts, we are here with a list of the 7 best Toronto movers.
Let's find your ultimate moving buddy.
                          List of The Best 10 Toronto Movers 
We have narrowed down the list of moving companies based on their online rating, customer satisfaction, and location. No matter whether you want to relocate your office, home, or remove junk, there is a perfect fit within this list.
Plus, you will also get the necessary information to contact your favorite company.
That's enough talking. Let's take a look at the best seven Toronto movers from expert suggestions.
Metropolitan Movers
Miracle Movers
Parker's Moving
You Move Me
Let's Get Moving & Storage
Your Friend With A Cube Van
Moving Unlimited /Max Moving Corporation
High Level Movers
Augusta Movers
Cargo Cabbie
Top 10 Toronto Movers- Reviews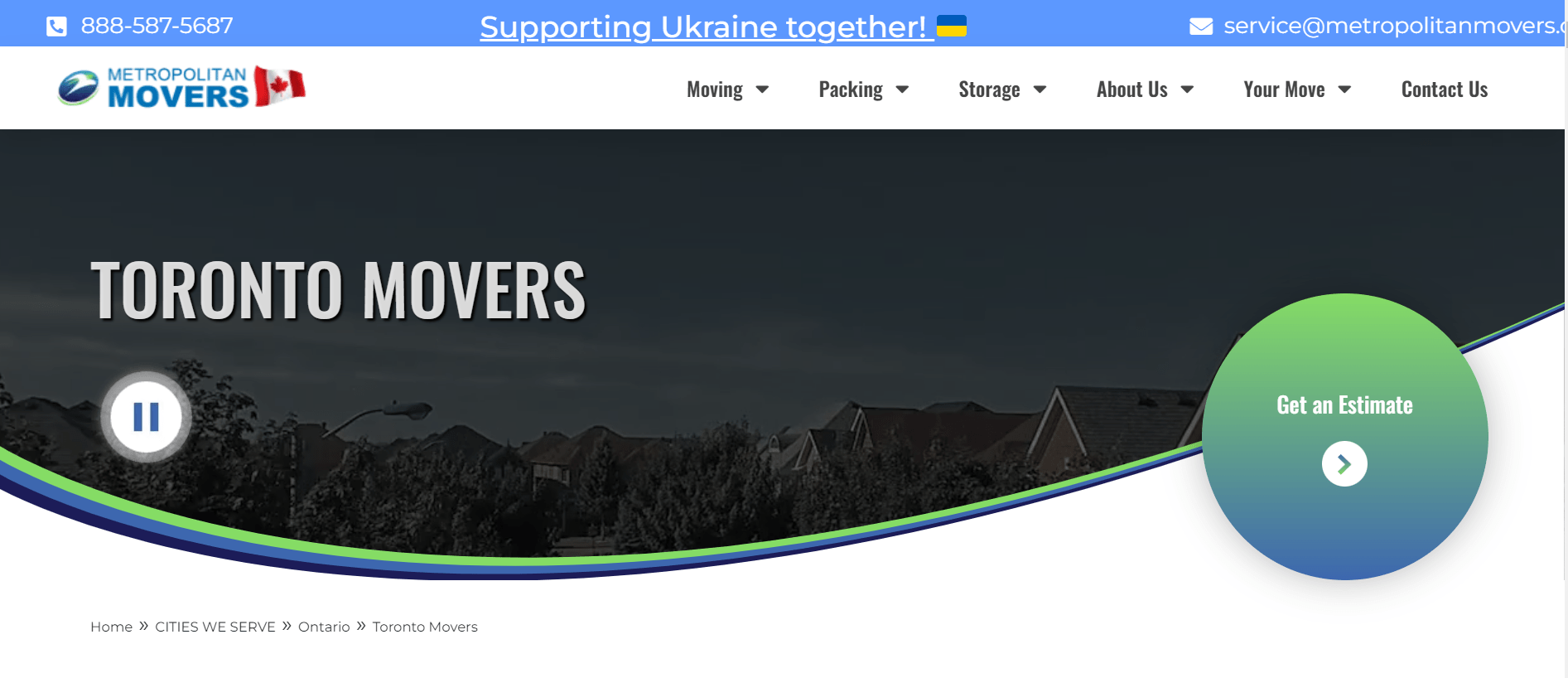 Service range

Local residential moving, junk removal, special furniture moves, cross-border moves, emergency moves, packing and organizing, portable storage (both long and short term).

Website address

https://www.metropolitanmovers.ca/contact-us

Opening Hours

8 am to 10 pm.

9 am to 9 pm (on weekends).

Contact Number

+1 647-560-1899

Contact Email

service@metropolitanmovers.ca

Specialty

Long-distance, special item, and last-minute moves.

Rating

4.8 out of 5.00

Price per hour

Minimum $99 (For two movers and one truck).
Looking for a known and reliable Moving company among its customers? Well, here you go. Metropolitan movers started helping people to reduce the moving dilemma in 2010. And, it has kept growing since then. It has a huge range of services under its umbrella.
You will also find unique services like trash removal, special instrument packing, delivery, and long-term storage facilities. The price is reasonable, and their customer service is great. You can also book a last-minute move with them.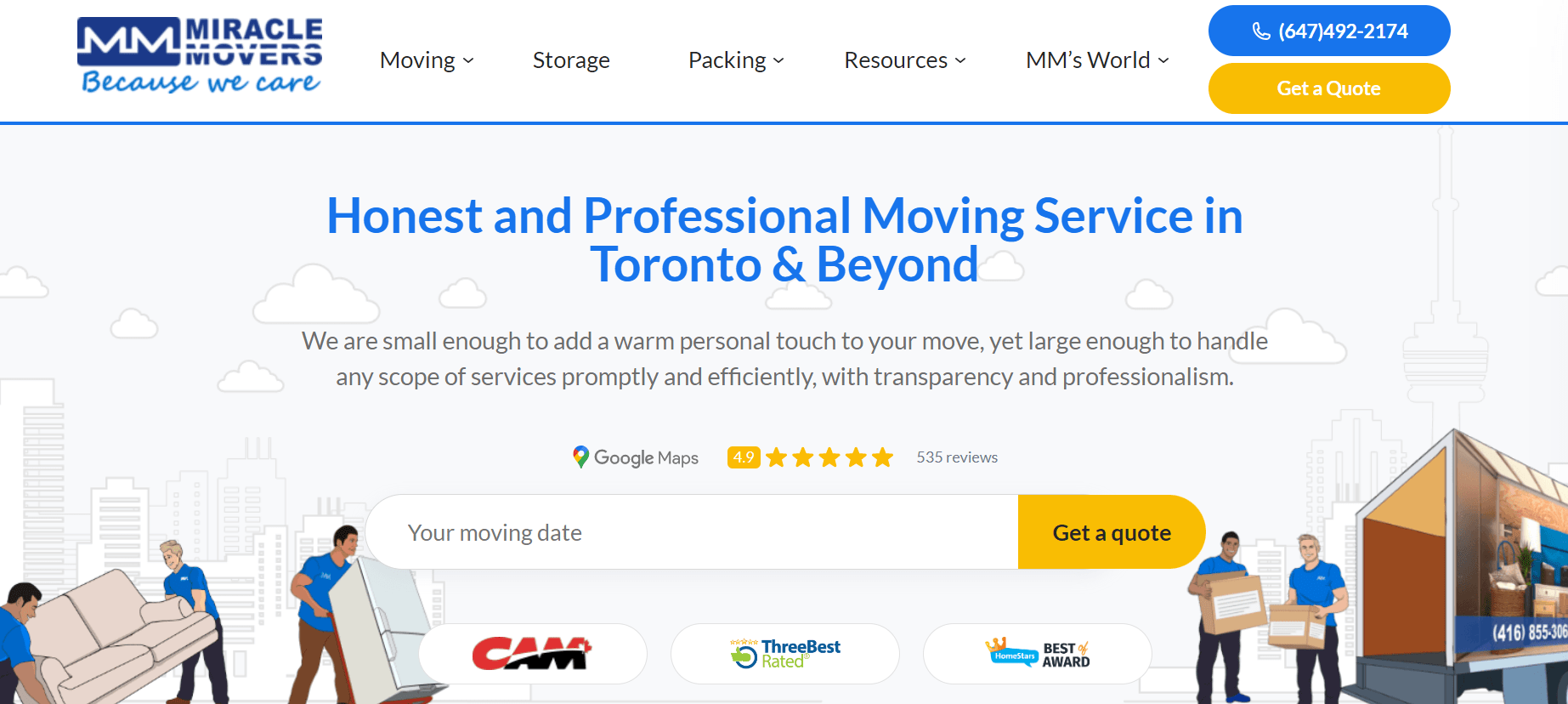 Service range

Cross province (Alberta, Nova Scotia, Quebec), Cross-border moves, long-distance moves, packing supplies, storage facilities, and vehicle transport.

Website address

https://www.miraclemovers.com/contact-us/

Opening Hours

8 am to 6 pm.

8 am to 5 pm (holiday hours).

Contact Number

+1 416-855-3068

Contact Email

info@mmovers.ca

Specialty

Car shipping, cross-provincial, and long-distance moves.

Rating

4.8 out of 5.00

Price Per Hour

Minimum $239 for two movers and a truck.
If you want an agency that can handle small and big projects, this is your pick. Their mantra is "because we care." And, the care is 100% visible when they pack and store your items one by one.
Miracle Movers has been in business since 2008. And since then, they have included a vast number of useful packages in their menu. Along with their local office or residential moves, they provide cross-provincial moves with ease. You can ask for cross-border moving services for NYC, Detroit, Chicago, and Cleveland cross-border moving services.
But their motto caught our attention -" nothing is too small." Whether one item or full office furniture, they have your back.

| | |
| --- | --- |
| Service range | Furniture delivery provides staging for heavy instruments and local moves. |
| Website address | https://www.parkersmoving.ca/ |
| Opening Hours | 9 am to 7 pm |
| Contact Number | +1 647-456-6806 |
| Contact Email | Aaron@parkersmoving.ca |
| Specialty | White glove furniture delivery |
| Rating | 5.00 out of 5.00 |
| Price Per Hour | Minimum $260 ($65 for movers & $195 for a standard truck.) |
Say Goodbye to the stress of packing everything. Parker's Moving is known to handle stressful situations and reduce customers' worries. It started as a small agency and now thriving in this business due to using the latest technology, well-trained staff, and friendly customer support.
They promote the idea that "it's the small things in life." They value their relationship with their customers more than anything.
You will find them easy to communicate the expectations. And, they will help you to hire other agencies like home décor, junk removal, cleaning, etc.
We highly recommend Parker's moving to anyone looking for a modern and personalized moving experience at the same time.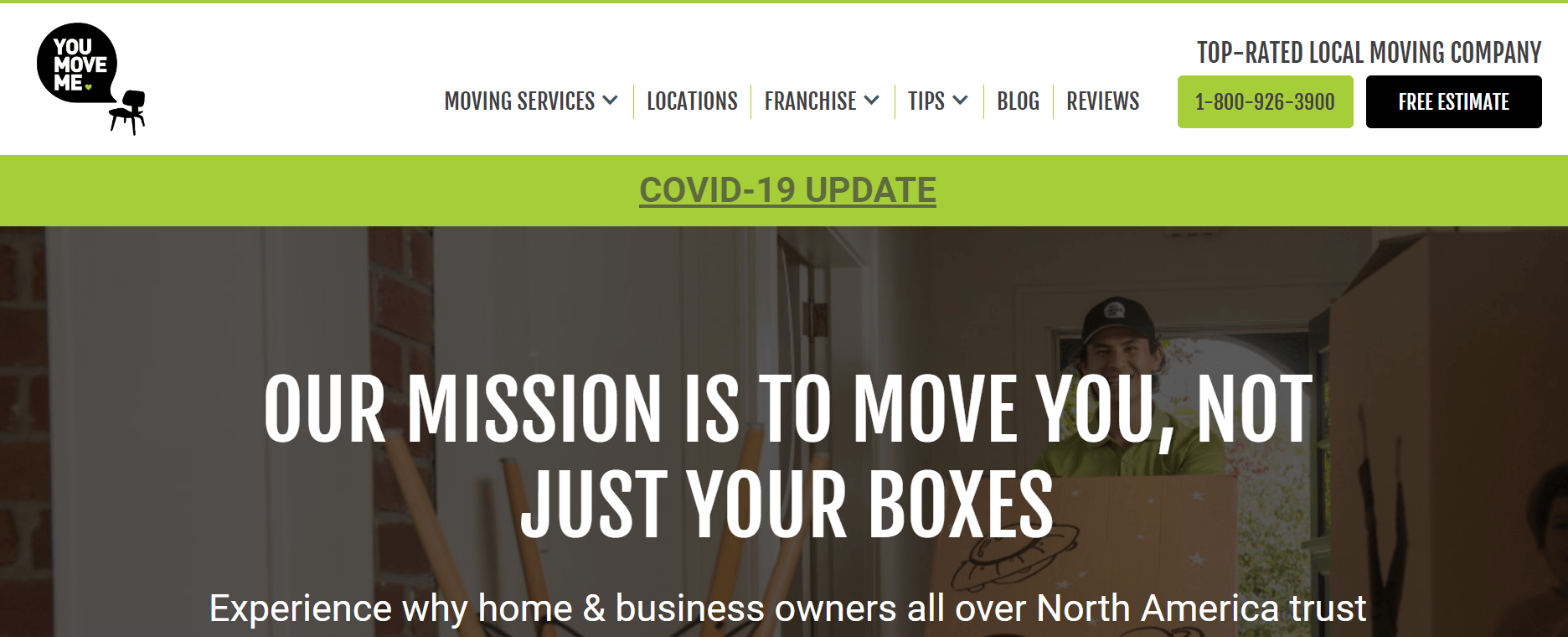 Service range

Office moving, local and commercial moves, furniture delivery.

Website address

https://www.youmoveme.com/

Opening Hours

8 am to 5 pm

10 am to 2 pm (holidays).

Contact Number

(800) 926-3900

Contact Email

ex. jane.doe@youmoveme.com

Specialty

Special senior moving service

Rating

4.5 out of 5.00

Price Per Hour

Minimum $79.
Don't have enough patience and time to pack the whole house? Guess what? You Move Me specializes in packing and unpacking boxes on your behalf.
You Move Me is highly popular in Toronto and its nearby areas. They are extremely punctual regarding their schedule. And they take transparency very seriously. You won't have to worry about the hidden or travel fees that will increase the actual moving cost.
They promise to move your items as their own. They start with a sweet welcome call and follow it up with a thorough survey of your home. On your moving day, they will wrap all your items in professional moving blankets to avoid any kind of damage.
The company will provide all the necessary moving boxes and supplies. What they care about is making your move as simple as possible.
5. Let's Get Moving & Storage
Service range

Local residential moves, office moves, long-distance packing & moves, assembly & disassembly, cleaning services.

Website address

https://letsgetmovingcanada.com/

Opening Hours

8 am to 9 pm

9 am to 5 pm (on weekends).

Contact Number

(647) 371 -5909

Contact Email

sales@LetsGetMovingCanada.com

Specialty

Professional cleaning service, commercial relocation.

Rating

4.8 out of 5.00

Price Per Hour

Minimum $169 for two men and a truck.
What can convince you more regarding a company's credibility than winning the reputed Yelp Moving Award? Yes, you heard it right. And, Let's Get Moving & Storage has won this award for four straight years. It also has the certification from BBB Bureau.
You can say the service is top-notch and tailored to meet each customer's requirement. They have been providing moving services in the Toronto area, Ontario, and Quebec for 12+years. That's more than enough experience to handle your antique furniture.
We also love their exceptional services like professional cleaning and junk removal. All the movers are well trained and easy to communicate with. Their website allows you to get a free cost estimation even before you book them.
6. Your Friend With A Cube Van
| | |
| --- | --- |
| Service range | Shipping cargo, packing & unpacking, assembling furniture, and renting moving tools. |
| Website address | https://www.yfcv.ca/ |
| Opening Hours | 9 am to 4 pm |
| Contact Number | 416-960-2048 |
| Contact Email | info@yfca.ca |
| Specialty | Renting boxes with various measurements. |
| Rating | 4.60 out of 5 |
| Price Per Hour | Minimum $65 |
Is there any company that can offer a decent level of service within half the average price? That sounds too good to be true, right?
However, many of us are more concerned about the money we need to spend on such agencies. That's when Your Friend With A Cube Van comes to the rescue.
Apart from traditional residential moves, they don't hesitate to take orders for cargo shipping, furniture assembly, and tools rental. You can find space saver wardrobe boxes to mini picture boxes or office file boxes within their supplies list.
Your Friend With A Cube Van is within the top five moving companies suggested by Metro Reader & BolgTO. Well, with 17+ years of experience, that kind of achievement is expected.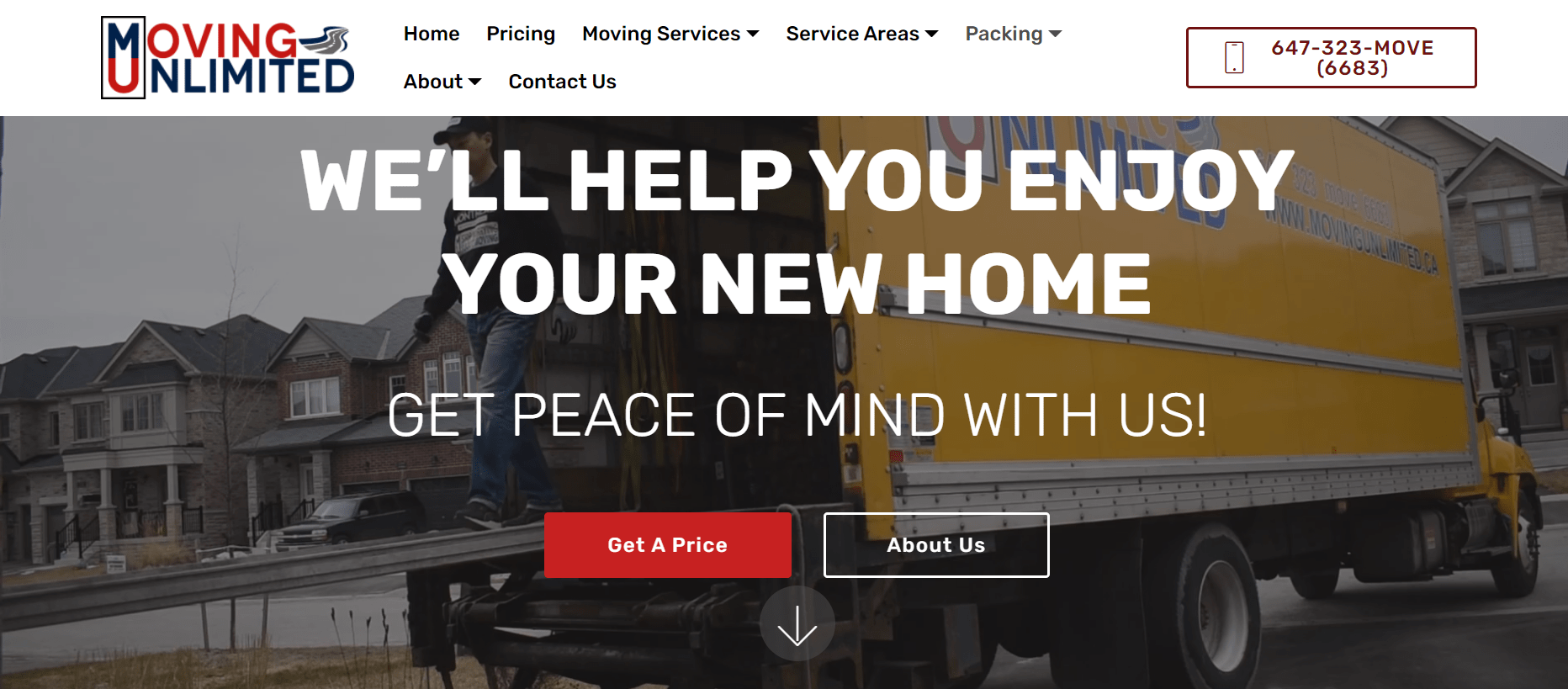 | | |
| --- | --- |
| Service range: | Local and commercial moves, fine arts and antique pieces, and heavy item moves. |
| Website address | https://movingunlimited.ca/ |
| Opening Hours | 8 am to 9 pm |
| Contact Number | 647-323- MOVE (6683) |
| Contact Email | inquiry@movingunlimited.ca |
| Specialty | Fine arts and antique pieces move |
| Rating | 4.6 out of 5.00 |
| Price Per Hour | For two movers $120 per hour |
Last but not least, we have Moving Unlimited. It specializes in wrapping and carrying antique pieces to the final destination. So, if you own one such item like an expensive painting or home décor, there is no need to look for anyone else.
They have 16′ to 26′ long trucks that can easily fit the belongings of 3 bedrooms. You can get a free cost estimation from their official website. You can tailor the package regarding how many movers you want, how many hours you think it will require, and see the cost calculation. It gives you a glimpse of which package will be affordable and efficient for you.
By their well-maintained trucks and equipment, you can say that they are reinvesting a lot in them. It significantly reduces the labor time and saves you a ton of money.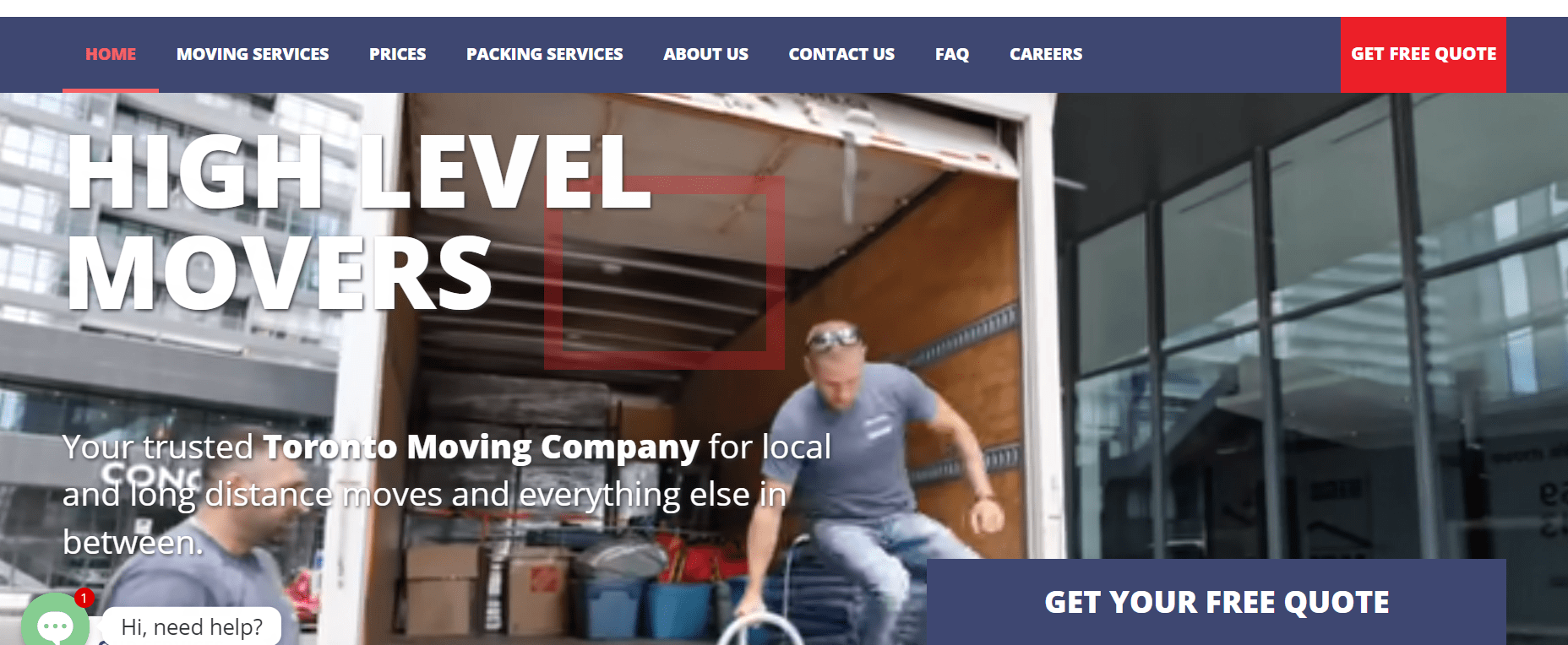 Service range

Last Minute Moving, Local Moving. Long Distance Moving, Residential Moving, Storage Services, Commercial Moving, Cleaning Services, Garbage Removal

Website address

https://highlevelmovers.ca

Opening Hours

Monday to Friday: 9:00 am – 5:00 pm

Closed on weekends

Contact Number

416-333-0259

Contact Email

 

Specialty

Moving Solutions and Packing Services

Rating

4.7 out of 5.0

Price Per Hour

Hourly Rate for Moving: $60/ person

Hourly Rate for Packing: $60/ person

Hourly Rate for Manpower: $60/ person

For jobs starting after 5pm: $75/

person
If a swift, affordable, and reliable move is what you dream to have, then I'll like to introduce you to the High Level Movers.
With a solid reputation of providing fast and trustworthy moving services, High Level Movers has captured the hearts of the people of Toronto. "Slow" is not a word in their dictionary because their goal as a company is to get you to your final destination as fast as possible without wasting any time on unnecessary activities.
And that is why they cut through the chase and look forward to actually getting the job done.
They made it to our top 10 list because of the good remarks and reviews we've seen from their past and current clients. With a track record like that, you can be sure that they've got your best interest at heart.

Service range

Residential Moving, Commercial & business moving, Lomg Distance Moving, Packing Supplies, Packing Services, Eco-Friendly Movers, Storage Services, Pod loading, Moving Policy.

Website address

Opening Hours

Contact for more information

Contact Number

+1 (647) 783-8730

+1 (416) 665-9996

Contact Email

info@augustamovers.ca

Specialty

Residential Moving, Commercial Moving, and Local and Long Distance Moving

Rating

5.0 out of 5.0

Price Per Hour

Visit https://www.augustamovers.ca/free-estimate/ to request a free quote
Augusta Movers was established in 2010 and have since then received tons of awards on the outstanding services they provide.
We admire them because of the simple application process they offer their cleints on every move. All you have to do when you are about to make a move is to request a quote from their website, send it over, wait for a few minutes and you'll get a breakdown. Once you accept the breakdown, you can then proceed to book your move and the staff will handle everything from there moving forward.
They also have a catalogue of services that makes them dynamic and versatile when it comes to the moving needs of their customers so that every plan they make is customized to the specific project.
Judging from the positive reviews they've received from online forums, it's safe to say they are a great option to consider for any move you want to make.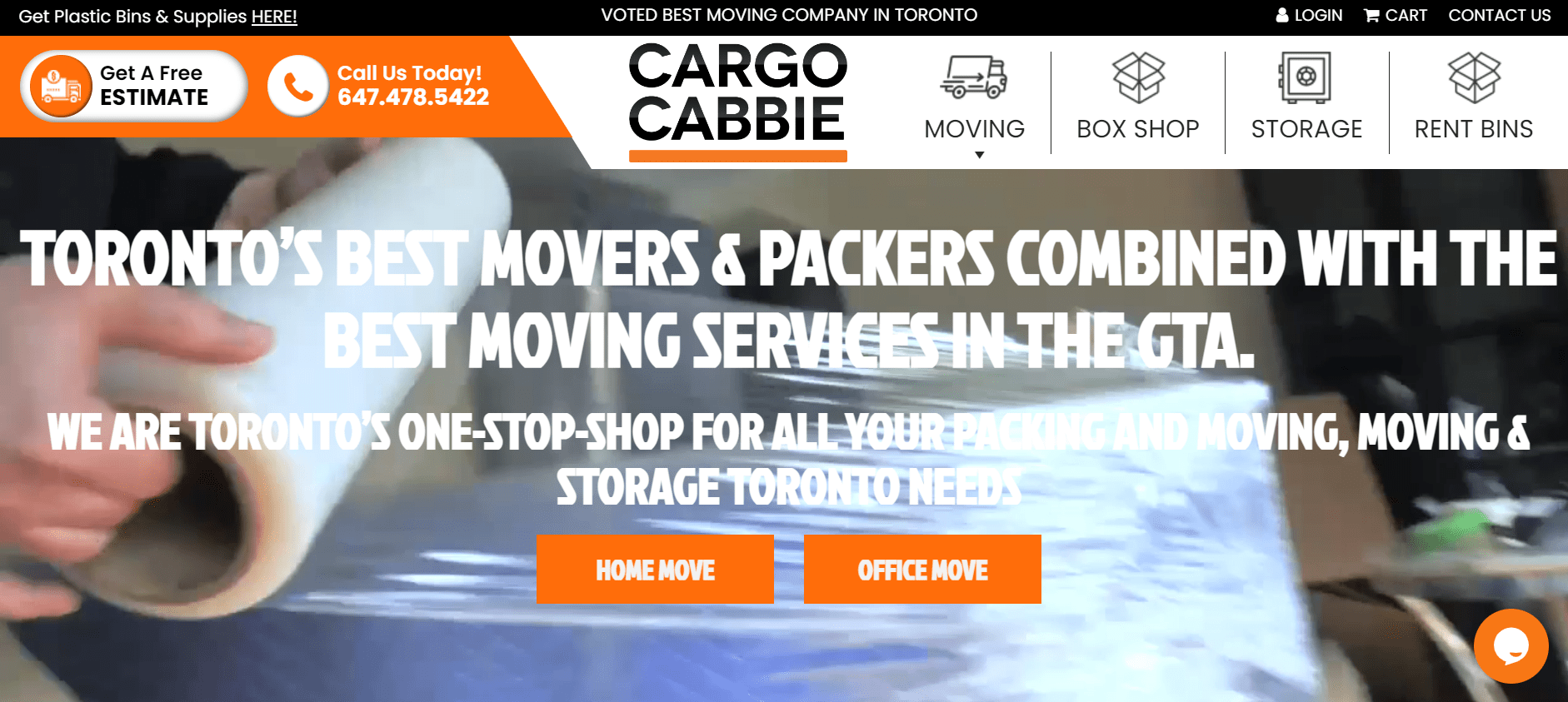 | | |
| --- | --- |
| Service range | Local residential moving, small office moving, long distance moving, and storage |
| Website address | |
| Opening Hours | Appointment based |
| Contact Number | (647) 478-5422 |
| Contact Email |   |
| Specialty | Personalized moving services |
| Rating | 5.0 out of 5.0 |
| Price Per Hour | Visit website to get price info |
Cargo Cabbie holds the title of the best moving company in Toronto, and boy do they deserve it. Absolutely, they do. They started servicing the residents of the beautiful city of Toronto in the year 2010 with the sole aim of providing industry leading services to all their customers.
They place customer satisfaction above every other thing because they believe a happy customer means a healthy business. The staff at Cargo Cabbie are well trained professionals who strive on every project to make sure you end up with a smile on yur face.
In addition to the amazing quality of their service, their consistency is second to none. No matter the time of the day, week, month or year, they are always available to attend to you.
What more can you ask for from a moving company?
Frequently Asked Questions
Yes, of course, you can. But it has to be light, unbreakable items like clothes or blankets that should be inside.
The average cost of hiring local movers in Canada is around $600 to $1700.
Leaving your current home or office is a huge milestone in your life. It's both an emotional and joyous moment. And, you are going to regret not spending the last hours cherishing the memories.
That's why it would be best if you could hand over the tedious job of packing and storing to a reliable moving agency. In this article, we tried to give you the necessary insight into the services of 7 best Toronto movers. So that it is easier to make up your mind.
However, the final decision is yours. Good luck with your journey!