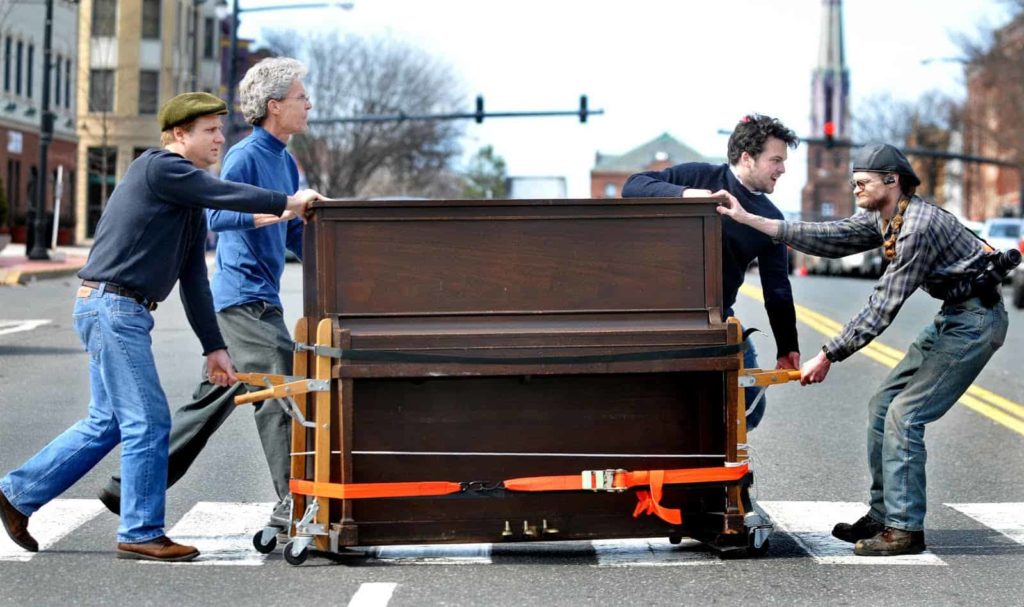 Are you planning to move your precious piano along with other properties in your home but you can't seem to know where to find a mover you can trust to handle everything for you? Don't worry, you're not the only one.
Luckily, however, this article will show you the best 10 piano movers in Toronto that you can completely rely on and they won't disappoint you. Plus, you'll also get insider tips on how to make every move worth the investment and effort.
These moving companies were not randomly selected to appear in this article. Every moving company you'll come in contact with—as you read further—made their way here from the reviews, track record, and quality of service they offer customers (both old and new.)
So, without further ado, let's jump right in.
How Much Do Piano Movers Cost In Toronto
There are a number of factors that can influence the amount you will be asked to pay for a piano move in Toronto and its environs, they include: location, the weight of the piano, the best delivery method, and whether or not there's an elevator available.
The table below contains estimates of various moving services you can apply for and the price range for each one. This information will be most useful when you are about to prepare your budget.
It's worth mentioning here that the prices of moving pianos across every moving company in Toronto are not necessarily the same. So this table should only serve as a guide to you and not the final answer.
| | |
| --- | --- |
| Expenses | Average cost |
| Local moves | $150 – $600 |
| Long distance move | $300 – $1000 |
| Tips | $20 – $30 |
Best 10 Piano Movers In Toronto
1. Braymore Piano Movers Crane Service & Storage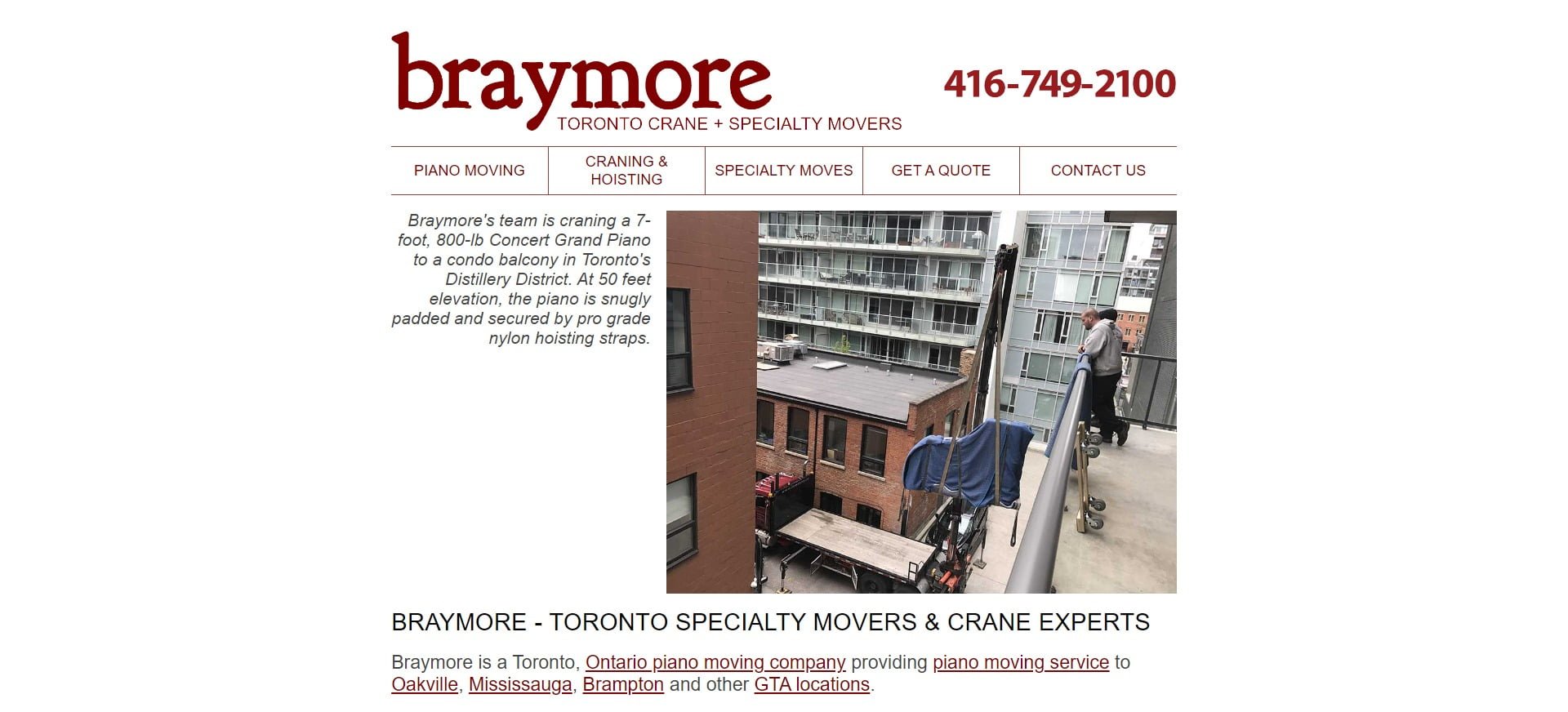 SERVICES

Piano moving, warehousing, and specialty moving

WEBSITE

https://www.braymore.ca/

ADDRESS

320 Norfinch Dr, North York, ON M3N 1Y4, Canada

CONTACT DETAILS

+1 416-749-2100

OPERATING HOURS

Monday to Friday: 9:00 am- 4:30 pm

Saturday & Sunday: Closed
Braymore piano movers started in 1981 and have made it to the top of this list because moving pianos is their area of specialty and they do it in ways other moving companies can't. Piano moving is their core service, and so they bring their A-game to every project to make sure they make an indelible impression before they leave.
They go above and beyond to deliver you the best piano moving services and help make your move a stress-free one with no hassles whatsoever. They are registered, insured, and licensed, so you don't have to worry about the safety of your properties because you can rest assured that your belongings are safe with the guys at Braymore Piano Movers Crane Service & Storage.
SERVICES

Residential moves, internal moves, reclaiming/upcycling, piano tuning, and storage

WEBSITE

https://rosedalepianomovers.com/

ADDRESS

1058a Yonge St, Toronto, ON M4W 2L4, Canada

CONTACT DETAILS

+1 416-929-1915

OPERATING HOURS

Monday to Saturday: 9 am-5 pm

Sunday: closed
Rosedale Piano Movers was formed in January 2017 with the motive of providing top-notch moving services to clients all over Canada. But they didn't just pop out of nowhere. Their sister company, which is Paul Hahn & Co., at one point, wanted a moving company that could deliver pianos that held the same underlying values, which is: care for both the piano and the customer.
Since they couldn't find any moving company that checked that box to their satisfaction, Rosedale Piano Movers was born as a result. Interestingly, Rosedale has grown to become one of the best piano moving companies in Toronto.
They arrive on time, keep close contact with their customers before, during, and after the whole move, exhibit the highest standards of safety, are polite, courteous, and professional. 
SERVICES

Tuning & repair, piano moving, appraisal and assessment, example assessments, buying and selling

WEBSITE

http://www.paddon.com/

ADDRESS

55 Bloor St W, Toronto, ON M4W 1M5, Canada

CONTACT DETAILS

+1 416-606-5397

jamie@paddon.com

OPERATING HOURS

Visit website for more information
Paddon Piano Movers is owned by Jamie Paddon, a certified piano technician. She entered the moving industry to be able to help people with pianos that needed moving alongside other items in a home.
But the piano is a very delicate instrument and, if not handled properly, can injure the person carrying it or even get broken by rough handling. So, in order to avoid such occurrences from happening again, she decided to offer her knowledge about the piano and couple it with the moving needs of people.
Jamie is passionate about the piano restoration industry and only hires World Class Certified Piano Technicians to join her team in providing superior service.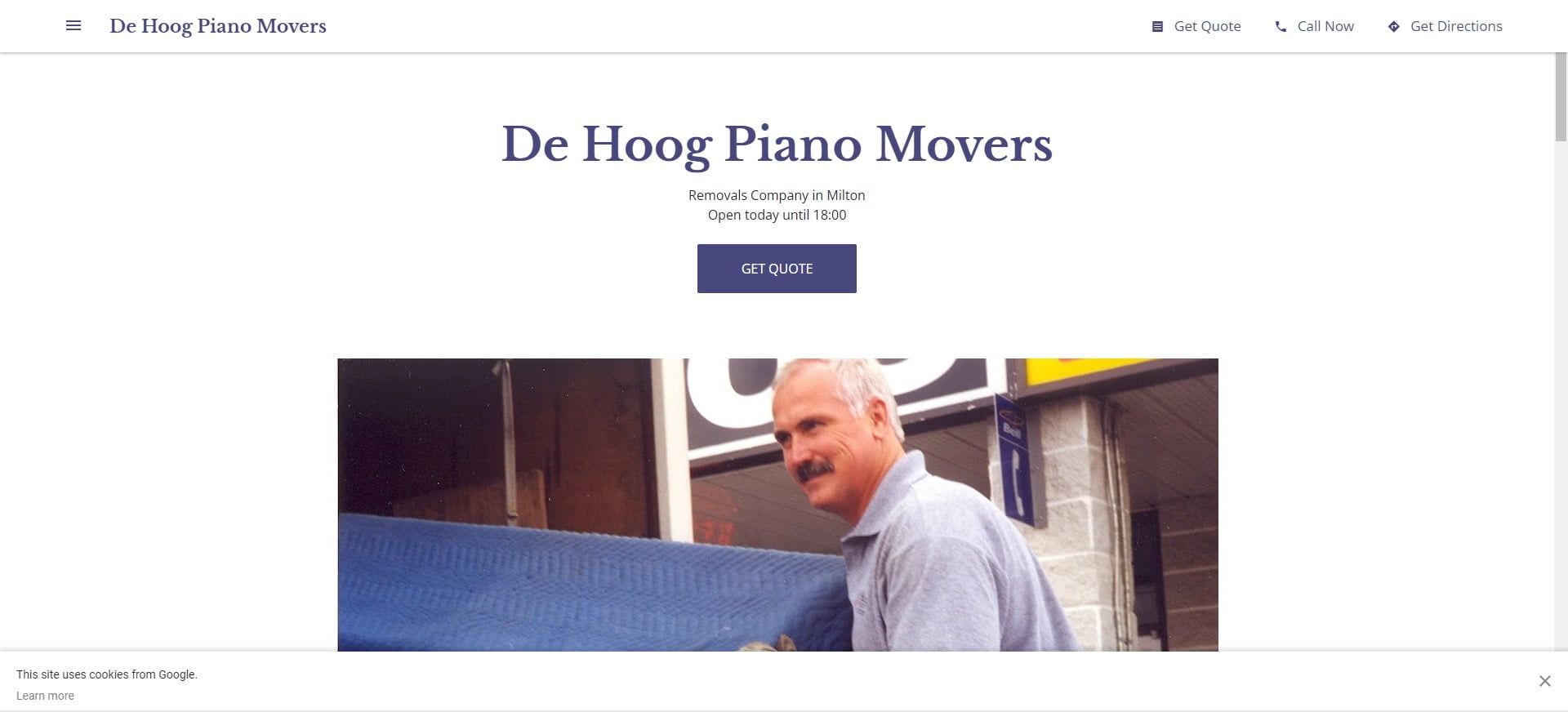 SERVICES

Piano relocation, storage, disposal, crating. across town, across province, across the room. Basement removals and installations

WEBSITE

https://pianomovers-guelph.business.site/?utm_source=gmb&utm_medium=referral

ADDRESS

187 Martin St, Milton, ON L9T 2R5, Canada

CONTACT DETAILS

+1 905-864-6785

OPERATING HOURS

Tuesday to Friday: 8 am-6 pm

Saturday: 8 am-4 pm

Sunday & Monday: Closed
De Hoog piano movers are one of a kind. They don't do less and neither do they back down from a challenge, no matter the size of the project. They always want to make sure their customers can trust them to the fullest with the safety and transportation of their properties.
The piano is a very delicate instrument and so must be treated as such-delicate! And that's why the DeHoog Piano movers focus all their energy in piano moving more than any other thing because they believe the only way to become exceptionally good at moving customers' properties is to become a professional and a master at doing what the customers need.
They are definitely a really cool option to consider for your next piano move!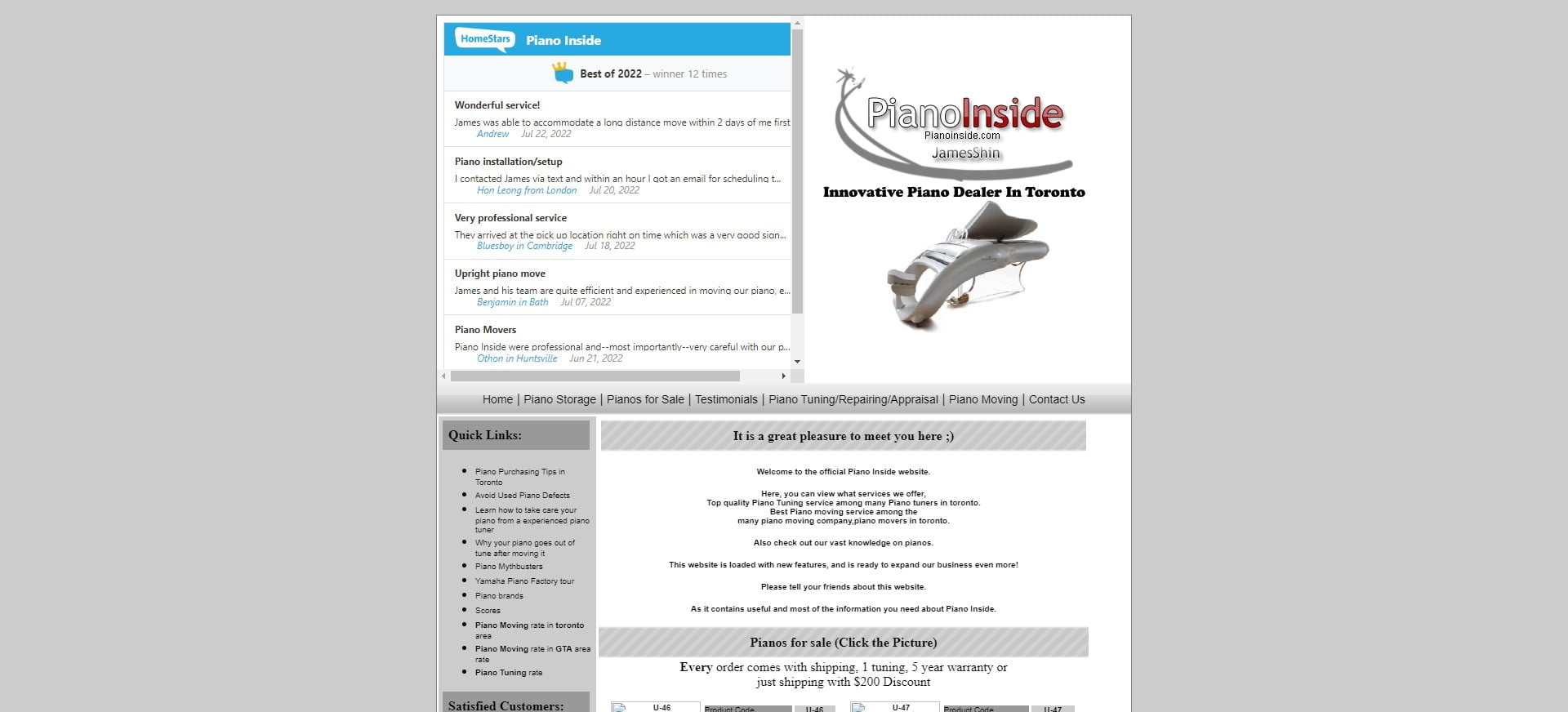 | | |
| --- | --- |
| SERVICES | Piano moving, piano storage, piano tuning/repairing/appraisal |
| WEBSITE | http://www.pianoinside.com/ |
| ADDRESS | 325 Bogert Ave, North York, ON M2N 1L8, Canada |
| CONTACT DETAILS | +1 647-218-8863 |
| OPERATING HOURS | Monday to Sunday: Open 24 hours |
Piano Inside doesn't specialize in piano moving but does offer the service from time to time when their clients request it. They mostly serve customers who are having issues with their heritage pianos.
The reason why they added piano moving to what they offer is because of their expertise in how the piano works and how it should be handled, so they decided to offer piano moving services so that the piano won't be mishandled and nothing bad will happen to it that could lead to a fault.
They are trustworthy because they know what they are doing and have your best interest at heart. They love pianos and, as a result, can't stand it when a piano is not handled correctly during a move.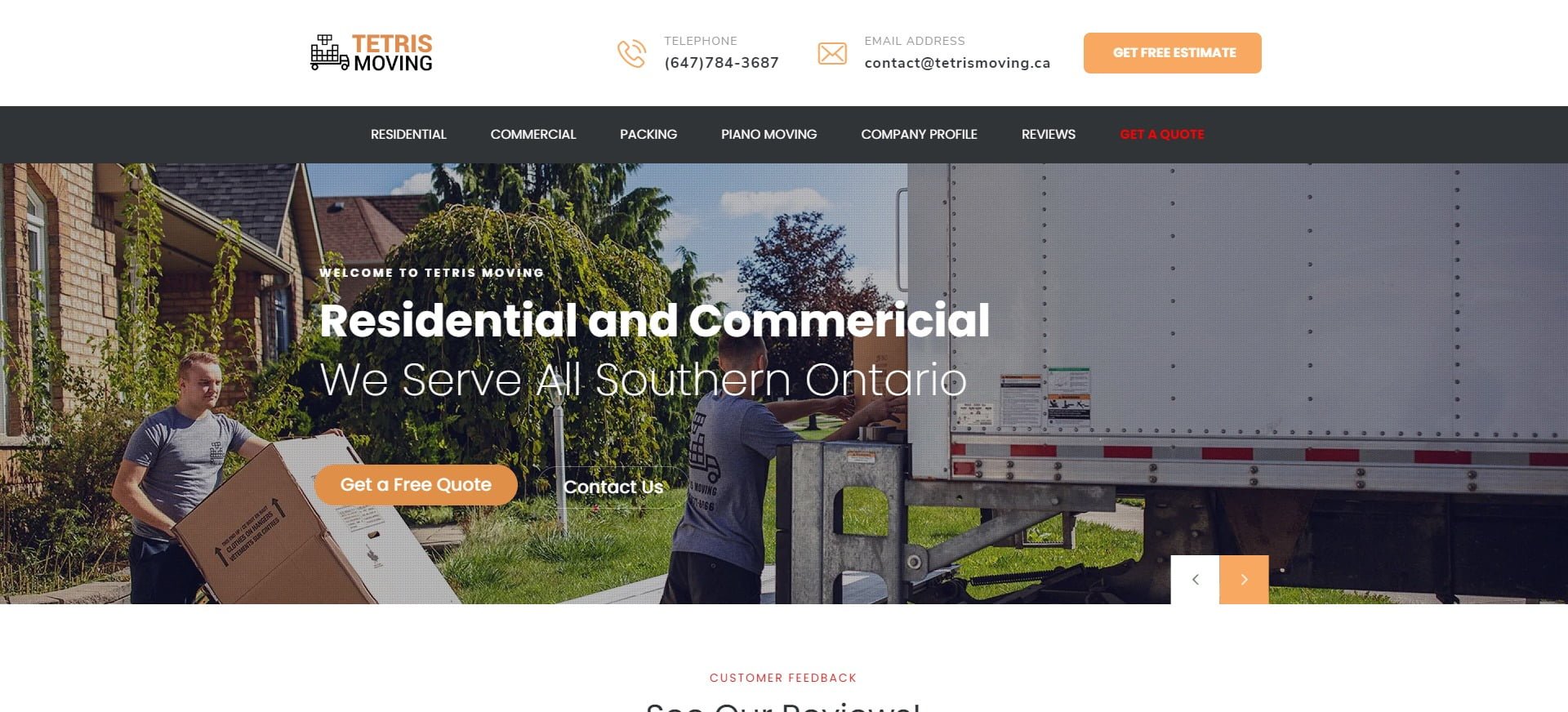 SERVICES

Commercial Services

Large and Heavy Item Moving

Long Distance Moving

Piano Moving

Furniture Moving

Local Moving

Packing, Unpacking, & Crating

Storage Services

WEBSITE

https://tetrismoving.ca/

ADDRESS

8 McKee Ave, North York, ON M2N 7E5, Canada

CONTACT DETAILS

+1 647-877-6966

OPERATING HOURS

Monday to Sunday: 8 am-10 pm
Your one-stop shop where all your moving needs are catered for! The guys at Tetris moving provide the whole package, so you don't have to stress yourself looking elsewhere after hiring them. This saves you a significant amount of time and effort that you can use to do other more productive tasks related to your move.
Their objective is to meet your expectations and exceed them with zero stress on your part all through the moving process. All you'll be doing is booking an appointment, and they will take care of the rest for you.
And the best part is, before giving you a quote or an estimate, they first of all do an online or on-site project audit to know what the project is all about and how they can best perform to give you the best experience of your life.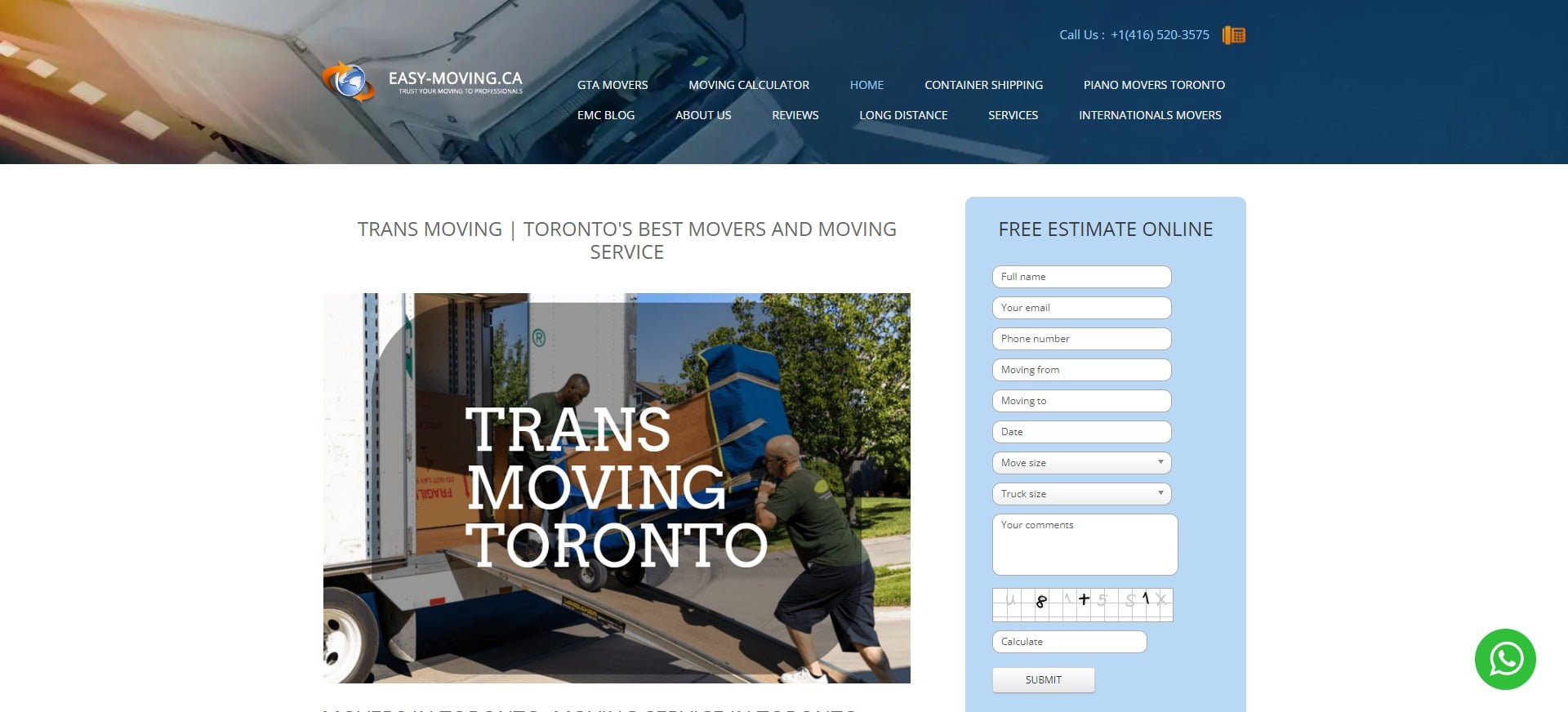 SERVICES

Container shipping, piano moving, office moving, long distance, and international moving

WEBSITE

https://easy-moving.ca/

ADDRESS

1181 Finch Ave W, North York, ON M3J 2V8 Canada

CONTACT DETAILS

+1(416) 520-3575

easymoving.ca@gmail.com

OPERATING HOURS

Monday to Friday: 8 am-8 pm
As the name implies, they make your move an easy, fun, and affordable one. It was founded in 2001 and has ever since been serving the residents of Toronto and surrounding areas at the highest level possible.
It's a family-owned relocation company and so they understand how to treat customers because they see every customer as part of their family. They always tell their customers to simply schedule a move and leave the rest to them.
They are fully registered and only give the best moving service you can find in Toronto. All your furniture and personal belongings are insured (up to $45,000 without a deductible). Your property will also be protected (up to $ 1,000,000). They've got you covered, literally!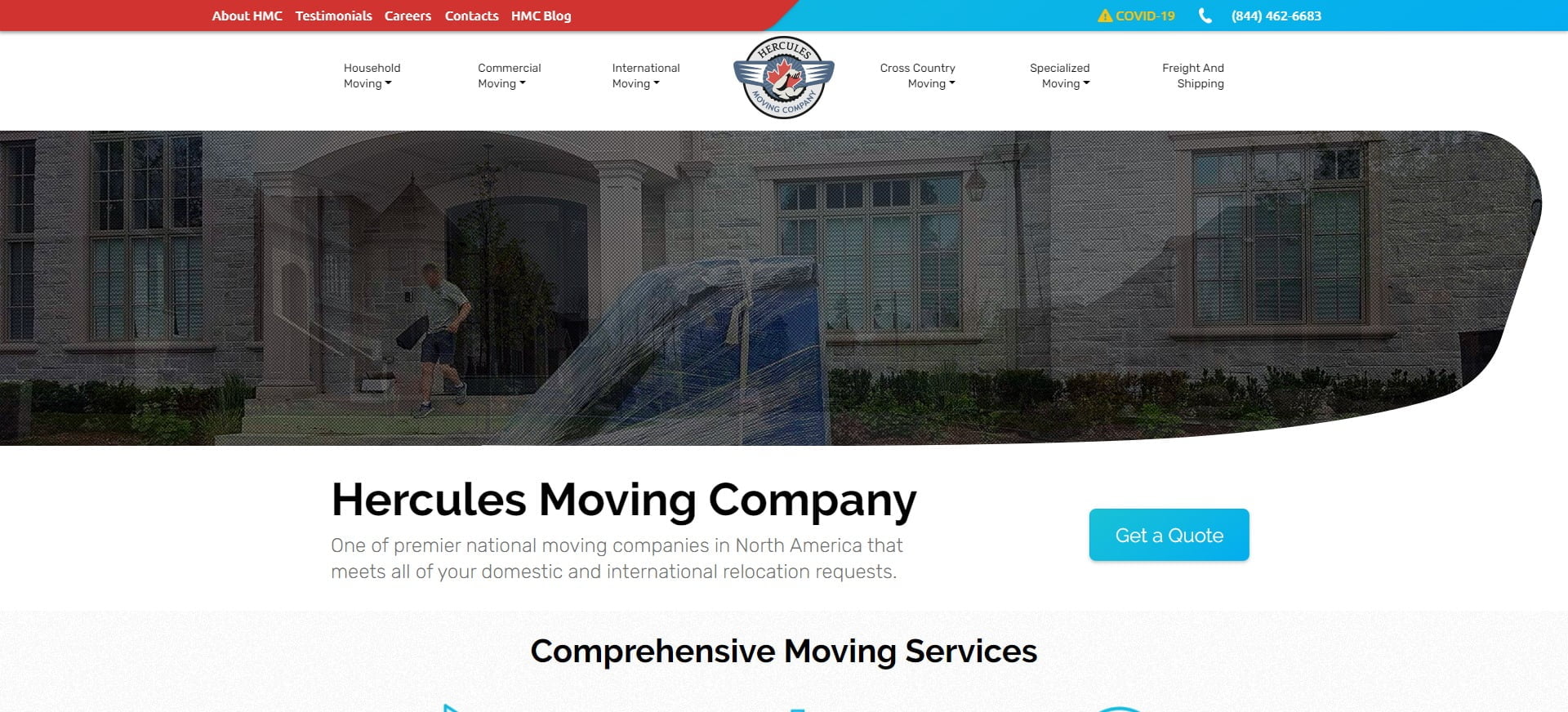 | | |
| --- | --- |
| SERVICES | Household moving, international moving, cross-country moving, specialized moving, freight and shipping |
| WEBSITE | https://herculesmoving.ca/ |
| ADDRESS | 1008 Magnetic Dr, North York, ON M3J 2C4, Canada |
| CONTACT DETAILS | +1 647-444-2899 |
| OPERATING HOURS | Monday to Sunday: 8 am-8 pm |
Hercules Moving Company entered the moving industry with a different approach because they believe the industry is due for a change, which they did. They developed their own standard for moving called HMC Standards which guides every action to make them overdeliver and outperform their rivals.
They started locally in Toronto but have now grown to be one of the leading moving companies in Canada, plus they also do overseas moving where they help customers who are relocating to a new country.
If you choose Hercules Moving, then you can rest assured that your properties are in safe hands.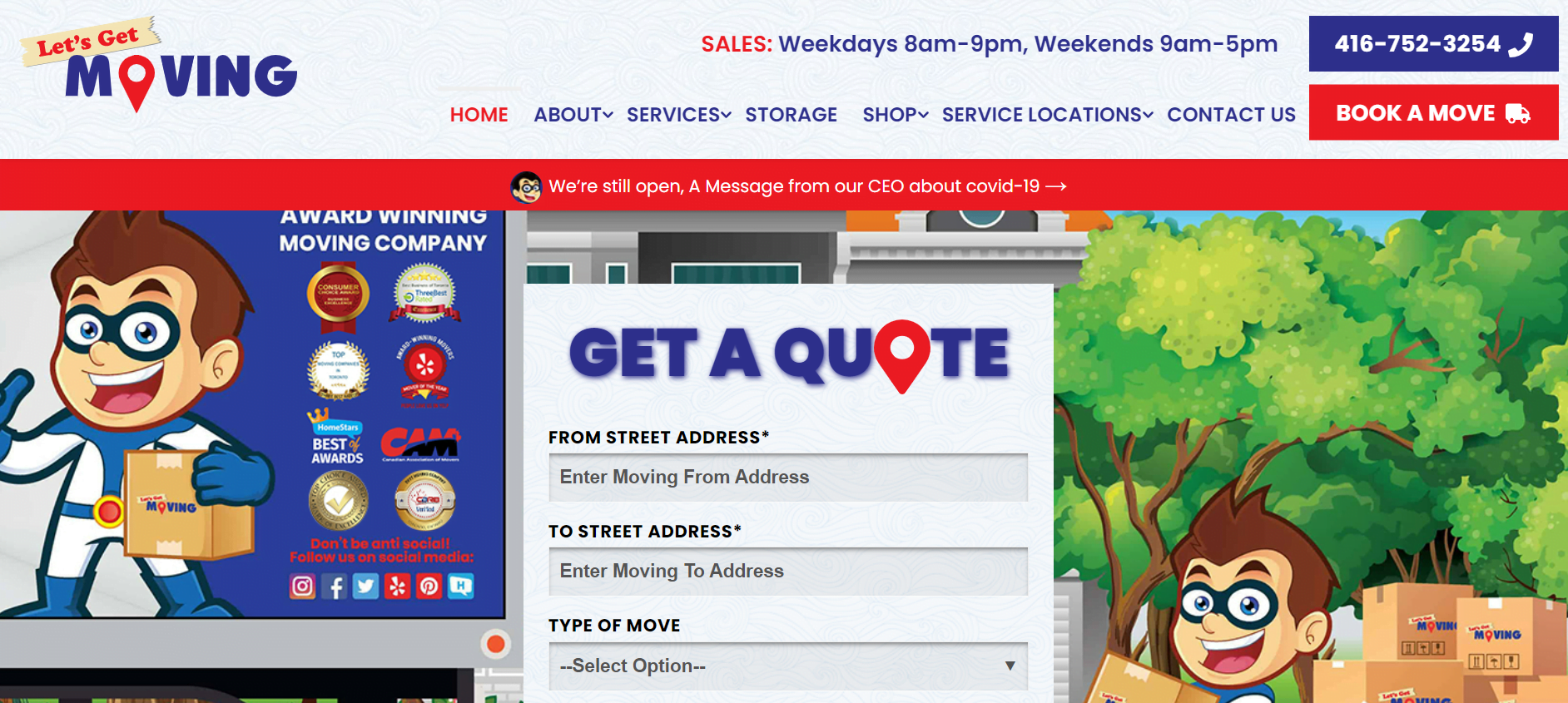 SERVICES

Residential moving, corporate moving, storage, and packing

WEBSITE

https://letsgetmovingcanada.com/

ADDRESS

945 Wilson Ave #7, Toronto, ON M3K 1E8, Canada

CONTACT DETAILS

+1 647-371-5935

OPERATING HOURS

Monday to Friday: 8 am-9 pm

Saturday & Sunday: 9 am-5 pm
The multiple award-winning moving company and storage, Let's Get Moving, has been serving the people of the beautiful city of Canada ever since its inception. They put customer satisfaction at the front of all their endeavors, and therefore, they make sure every customer is happy by the end of every move.
They have an amazing and competent team and a simple-to-use booking process. They also never charge you for gas, trucks, tools, supplies, or even insurance in case any accidental damage occurs. Everything is included in the hourly price you'll pay when you hire them. 
Besides that, they charge 15-minute time slots in the final hour, to make sure honesty and fairness are demonstrated to their customers.
SERVICES

Tuning

Repair

Regulation/Adjustments

Appraisals/Assessments

Rentals

Studio And Lessons

Sell Your Piano

Piano Donation

Moving

Crating

Storage

Hire A Piano Player

WEBSITE

https://paulhahn.com/

ADDRESS

1058 Yonge St, Toronto, ON M4W 2L4, Canada

CONTACT DETAILS

+1 416-922-3122

OPERATING HOURS

Monday to Friday: 9 am-5 pm

Saturday: 10 am-5 pm

Sunday: Closed 
Legends never die. In particular, Paul Hahn and company has proudly carried the name of its founder, innovator, and inspiration, Paul Hahn, for 108 years to amazing heights in the industry of musical instruments, and pianos.
History has it that Paul Hahn Sr. was a very kind, gentle, and respectful man. His music, passion, and generosity have transformed so many lives. Paul Hahn & Co. Ltd. was established in 1913 and is a family-owned and operated business.
His unwavering passion for lovingly restoring and rehoming heritage pianos was passed down to his son, Paul Hahn Junior, who ran the company from 1948 to 2008. Now in its third generation, Paul Hahn & Co. Ltd. is currently run by Alex Hahn, the granddaughter of the founder.
The Best Piano Movers Checklist
Scheduling
On-time scheduling is the best as it will save you the headache that comes with rush hour. Don't procrastinate when it comes to booking an appointment.  , it all boils down to how urgent the move you are about to make is.
Transportation
Make sure the company's transport vehicles can seamlessly accommodate all your valuables without overstuffing or overloading.
Types of moves
Find out beforehand if the mover you are about to hire can actually cover the distance you need to get to your final destination.
Coverage of services
Only select movers who value customer satisfaction over everything else. Movers who don't mind going all the way to see that their clients get the best moving experience.
These are the kinds of movers that don't settle for less and give you their 100%.
Credibility & Reputation
The reputation of a particular moving company says a lot more about them than their marketing message or brand logo ever will.
So, in that case, you'd want to look for a moving company with a good track record and positive customer reviews. For the credibility part, provided the company is recognized and registered under the right authorities in your region, you're good to go!
Pricing
Have an objective outlook on price because that will help you make sound judgments on every step you take.
Don't let the idea of it being cheap fool you. It can be cheap in the amount you pay and also be cheap in the quality you'll get.
So, the best way to go about pricing is to plan your budget and go for the best movers, as we've listed for you in this article.
Also, don't forget to have a contingency plan in case of an emergency, because you can never tell what's going to happen.
How To Prepare Yourself For A Move?
Set a date and time, and stick to it.

After you've chosen a date that's convenient for you to make the move, talk to a mover right away so you can secure a slot in their busy schedule and have all your requests attended to in due time.

To avoid misplacement and damage of any of your belongings, it's smart to pack similar items into a single box and to also put a bold label on fragile items to let the movers know the goods are to be handled carefully. Packing days before the move is a great way to save you both (yours and the mover's) time and energy.

Finally, you can now create your budget and make sure you also highlight any possible damage or extra costs that may arise before, during, or after the move. Your preparation matters a lot!
FAQs About Piano Moving Services In Toronto
Moving an instrument, especially a piano, is no small task. It will require the hands and experience of professionals to make sure the piano doesn't hurt anyone or end up broken before you even get to your new home. And we don't want that to happen, right?
So, as much as you want to move your piano to your new site, it's also important that you take the time to go through the list above that contains the best 10 piano movers you can find in Toronto to save yourself time and energy.
I'd love to know in the comments below which of the company from our list did you eventually hire. With that said, all the best, and I wish you a stress-free moving experience!