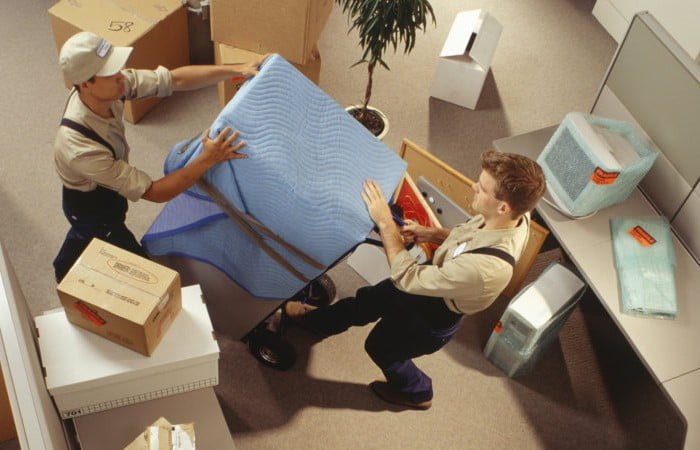 Today, We will talk About the best appliances movers in Toronto. How can you tell the best movers from the rest in a city that is known to have literally hundreds of moving companies actively in service? Well, that's the reason why we've put this comprehensive list together for you.
We understand relocating can be stressful and in order to take some of the pre-planning moving activities off your plate, this list will save you time that you would have otherwise spent going through a series of websites to find the moving company that fits your project and budget.
In essence, what this list of the best 10 appliances movers in Toronto will do for you is it will equip you with all the vital information about the top leading appliances moving companies in Toronto so you can make an informed decision afterward.
That's not all, you'll also get helpful tips and suggestions you can follow to make the most out of every move you embark on.
So, with that much said, let's jump right into it! First things first though.
Price, among other moving factors, is critical and must be taken care of earlier on before the move will be made. The amount it will cost you to hire a mover that's going to help you make the best move ever will depend on the distance to be covered and the appliance to be relocated.
Although this price list doesn't give you the actual price, what it does instead is it gives you an average price that will serve as a baseline for your budget. Also, these costs will vary depending on the company and your specific needs.
| | |
| --- | --- |
| Expenses | Average Price |
| One Bedroom (600-750 sq. ft.) | $750+ |
| Two Bedroom (700 – 1000 sq. ft.) | $1100+ |
| Fridge Moving | $150 to $250 |
| Large Home (1200-1500 sq. ft.) | $2200+ |
| Extra Large Home (2500-4000) | $3500+ |
Note: You can find the average prices of most apartment moves in the price list above because most appliance moves are done with an apartment move, but if that's not the case for you, you can ask the moving company for a special appliance quote for the item you are planning to move.
The cost depends on weight, distance, labor hours, and the type of moving services delivered.
The Best Appliance Movers In Toronto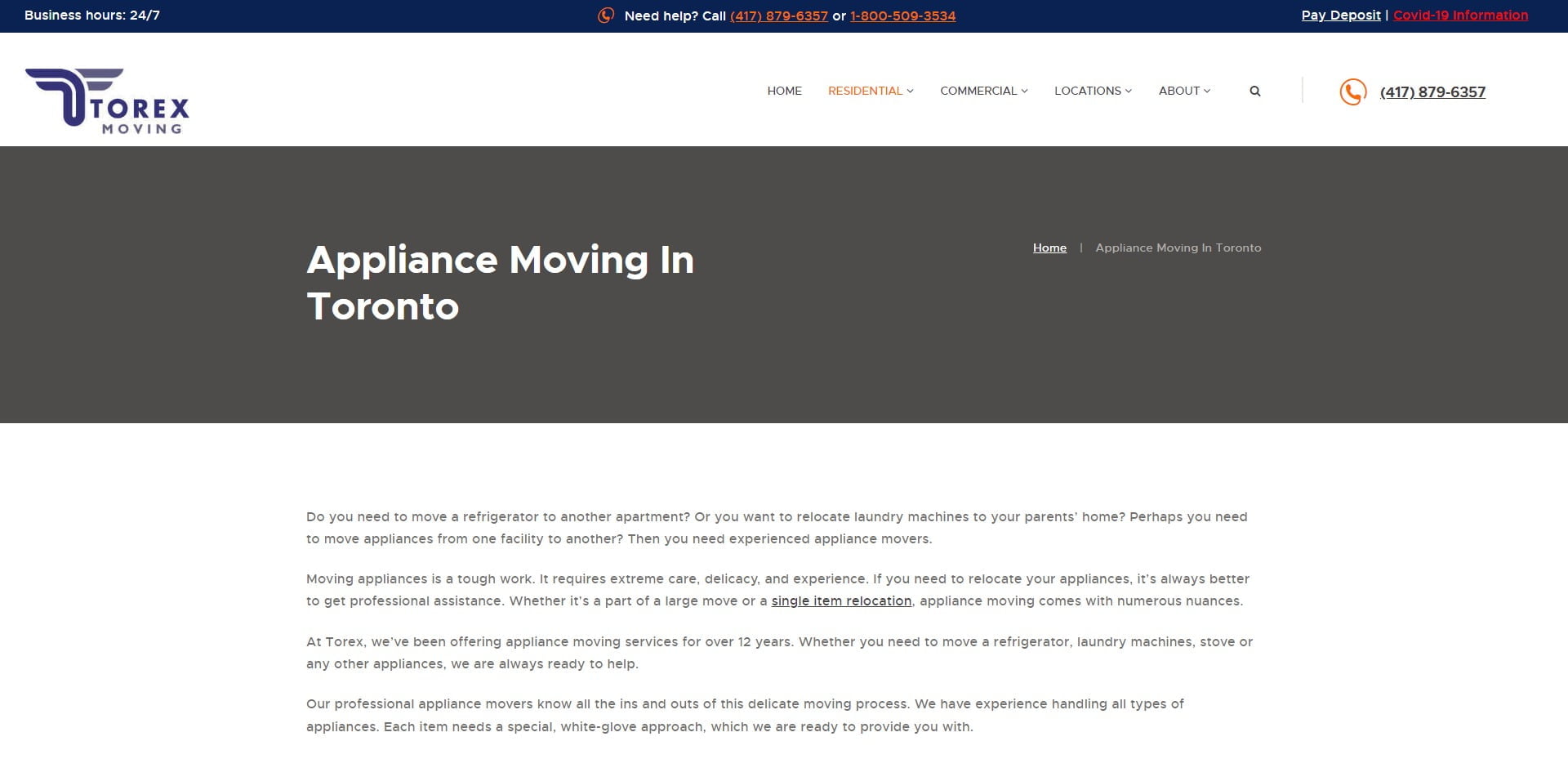 SERVICES

Office Moving

Medical Facility Moving

Warehouse Moving

School & University Moving

Restaurants & Cafes Moving

Specialty Moving

Mobile Storage

Junk Removal

House Cleaning

WEBSITE

https://www.torexmoving.ca/appliance-moving/

ADDRESS

30 Roehampton Ave Unit 2206, Toronto, ON M4P 0B9, Canada

CONTACT DETAILS

Phone: +1 416-238-4543

OPERATING HOURS

Open 24/7
There's no doubt can moving or relocation can be nerve-wracking, but the Torex Moving company take away the burden from off your shoulders and tackle it with professional help from the entire team. Without any doubt they are the no#1 appliances movers in toronto
They've been in the industry for 13 years and have been able to serve over 2,000 customers in Toronto, GTA, and around Canada with great professionalism.
Customers love them a lot because the minute the item leaves your home and gets into their truck, anything that happens to it from that moment forward is counted as their fault and they take full responsibility for any damage that happens during any move thereby giving you the peace of mind that they would go above and beyond to make sure the move is smooth and safe.
They offer a variety of moving services, from packing to unpacking and storage solutions, you can count on them to get you to your final destination hassle-free. And, the interesting part is that all their trucks are GPS-tracked so you can see in real-time the progress of your move.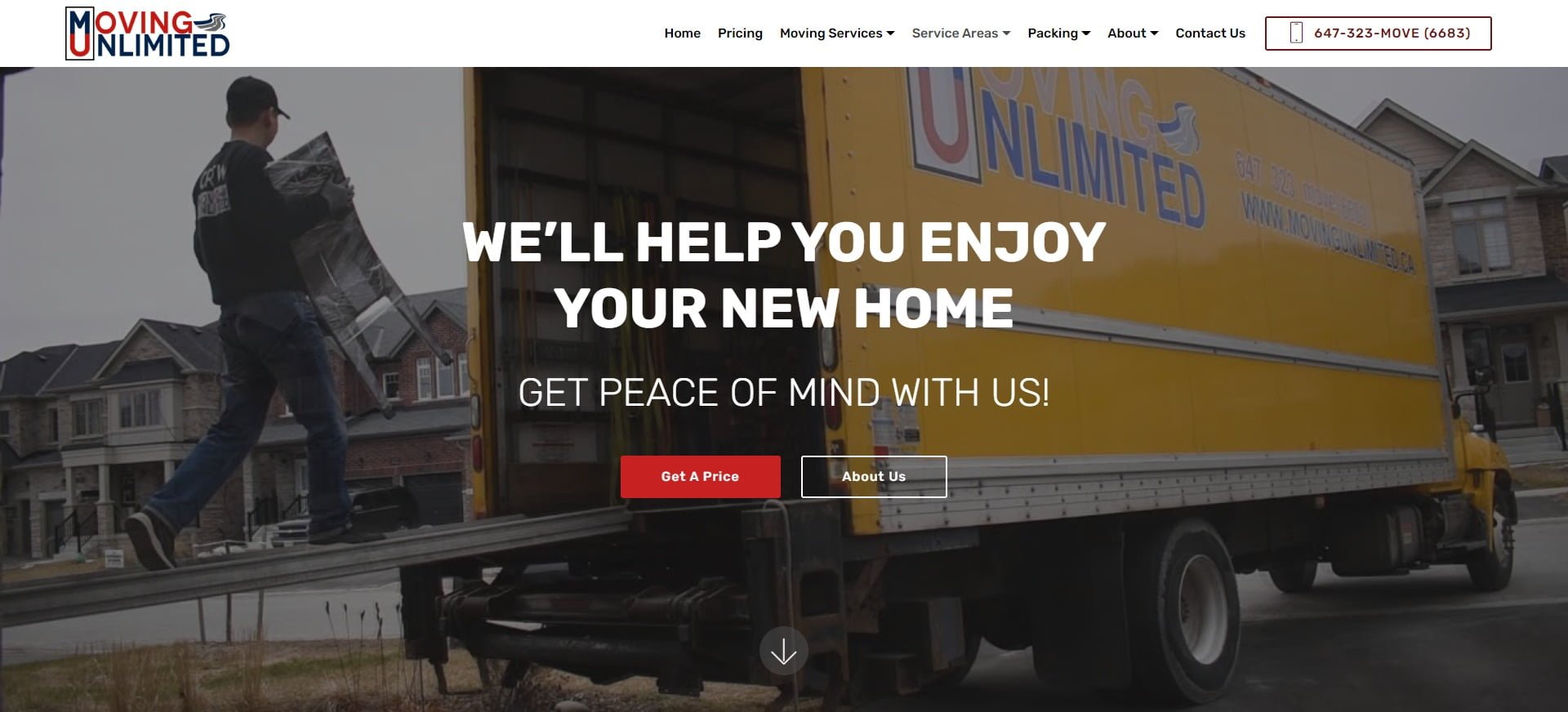 | | |
| --- | --- |
| SERVICES | residential moving, commercial moving, long distance moving, heavy item moving condo moving, fine art & antiques, local moving, apartment moving, university faculty and students. |
| WEBSITE | https://movingunlimited.ca/ |
| ADDRESS | 920 Alness St #201, North York, ON M3J 2H6, Canada |
| CONTACT DETAILS | Phone: +1 647-323-6683 |
| OPERATING HOURS | Monday to Sunday: 8 am-9 pm |
Moving Unlimited  is Toronto's 2nd best moving company  worth mentioning because of the high quality of their moving services and how passionately they handle every job. They treat every move like it's theirs.
They provide a wide variety of outstanding moving services that are designed towards making the life and move, in particular, of their customers an absolute breeze. One thing I admire about Moving Unlimited is that they are not afraid to express their vulnerability and areas where they know they can't perform really well.
They hold this belief that even if they can't make the entire of your day fun and adventurous, they won't let that stop them from giving you the best moving experience possible.
Customers come first in their modus operandi and they have a customized plan for customers who have special moving needs. They are definitely worth checking out!
3. Your Friend With A Cube Van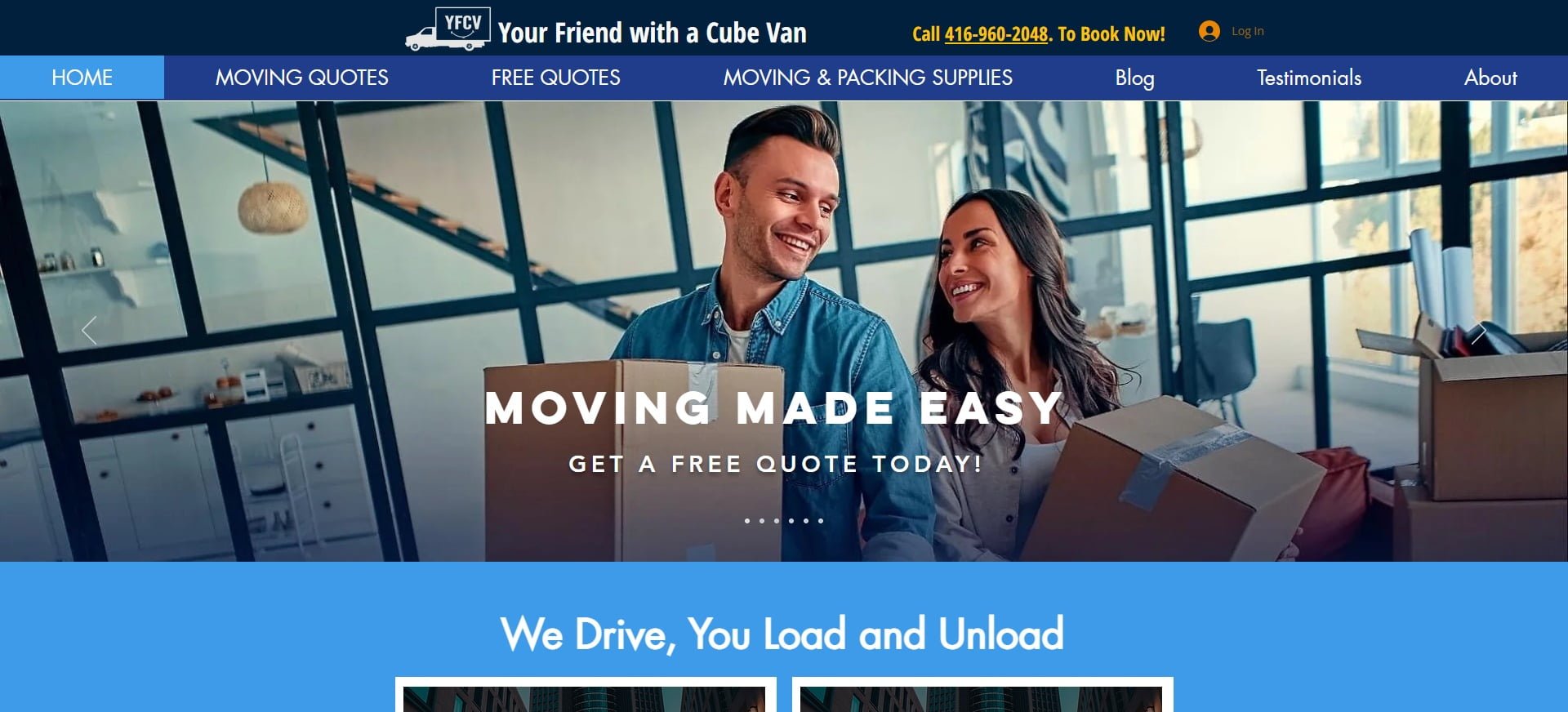 SERVICES

Condo, Apartment, House

Office Move

Cargo Van

Packing & Unpacking

Furniture Assembly

Moving tools and Rentals

Club 65

Club 85

WEBSITE

https://www.yfcv.ca/

ADDRESS

389 Dundas St E, Toronto, ON M5A 2A6, Canada

CONTACT DETAILS

+1 416-960-2048

OPERATING HOURS

Monday to Friday: 8 am- 4 pm

Saturday & Sunday: 9 am-4 pm
Your Friend With A Cube Van live by their name and it reflects in how they treat customers and handle their properties. They are one of the top leading moving companies in Toronto and have been giving clients nothing but the best since 2003!
That is 19 years of combined experience to meet customers' moving needs without any complications. It might be a box or the contents of an entire house, Your Friend With a Cube Van take pride in serving you with professional and friendly enthusiasm.
Their application process is a no-brainer and you will have access to their customer support line every step of the way. They are a complete package and a very good option worth considering.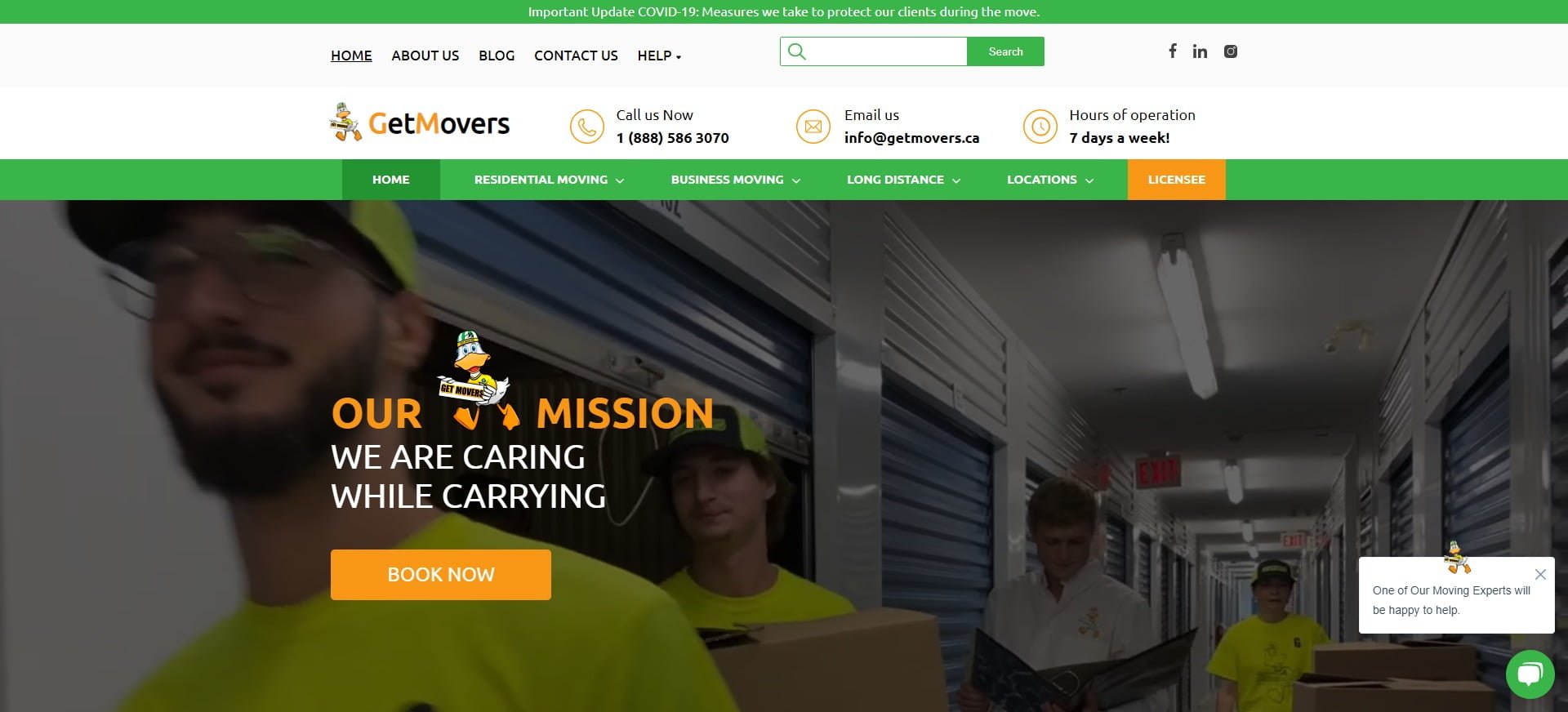 SERVICES

House Moving

Condo & Apartment Moving

Packing Services

Storage Services

Furniture Transportation

Appliances Moving Services

Piano Moving Process

Junk Removal

Senior Moving

Student Moving

Packaging Materials

Antique & Art Moving

WEBSITE

https://getmovers.ca/

ADDRESS

70 Temperance St Unit 5307, Toronto, ON M5H 0B1, Canada

CONTACT DETAILS

Phone: 1 (888) 586 3070

Email: info@getmovers.ca

OPERATING HOURS

Monday to Sunday: 8:30 am-10 pm
GetMovers are true professionals in anything that involves moving and it's evident in their work approach and in how they interact with customers. It started as a small moving company back in 2008 but has now grown to be one of the most successful moving companies in Toronto,Canada.
Your satisfaction as a customer is their #1 goal and so they make sure all their staff undergoes intensive training to be able to provide the best results. Their pricing is super cost-effective and they don't have any extra or hidden charges at all.
They don't only provide moving services, they also provide consultation to help you make the best moving decisions in situations where you are overwhelmed and don't know what to do.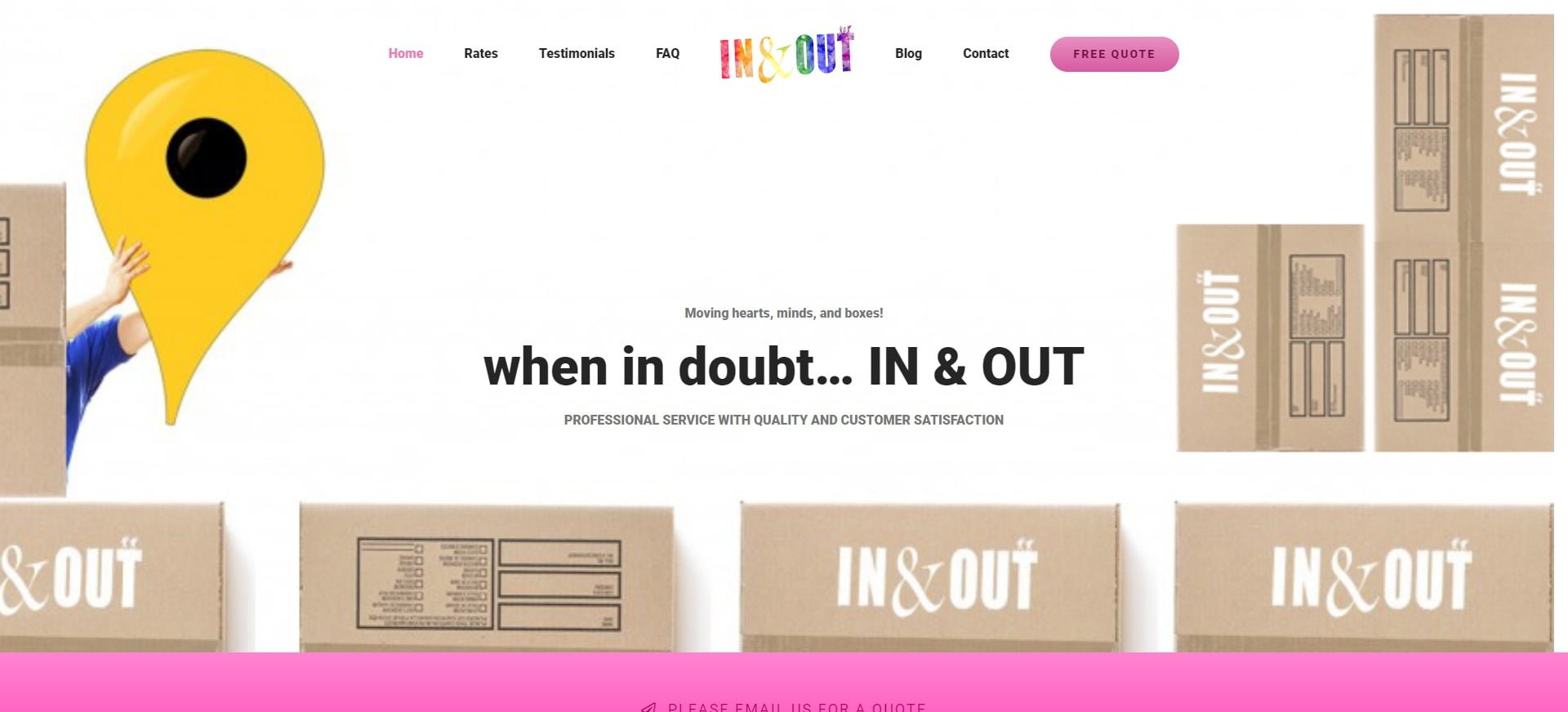 SERVICES

Household, Office, and Event Moving

Packing, Organizing, and Downsizing

WEBSITE

http://inandoutmoving.ca/

ADDRESS

777 Richmond Street W Suite 2030 Toronto, ON M6J 3N5 Canada

CONTACT DETAILS

Phone: (416) 819-0307

OPERATING HOURS

Monday to Saturday: 8 am-5 pm

Sunday: 10 am-4 pm
The In & Out Moving company specialize in household, apartment and event moves but they can also entertain other moves if that's what will meet up to their customer's expectations.
They do everything with their customers in mind because they see the customers as the lifeline of their business and so they do everything they can to please them. With over 10 years of experience and relevance in the industry, they for sure have already designed a system where every move they make puts a smile on your face.
They provide everything a project will require so they don't disturb you before, during, and after the move except if they need to. The company was built on industry standards and so they make sure in everything they do, the highest standard is ensured.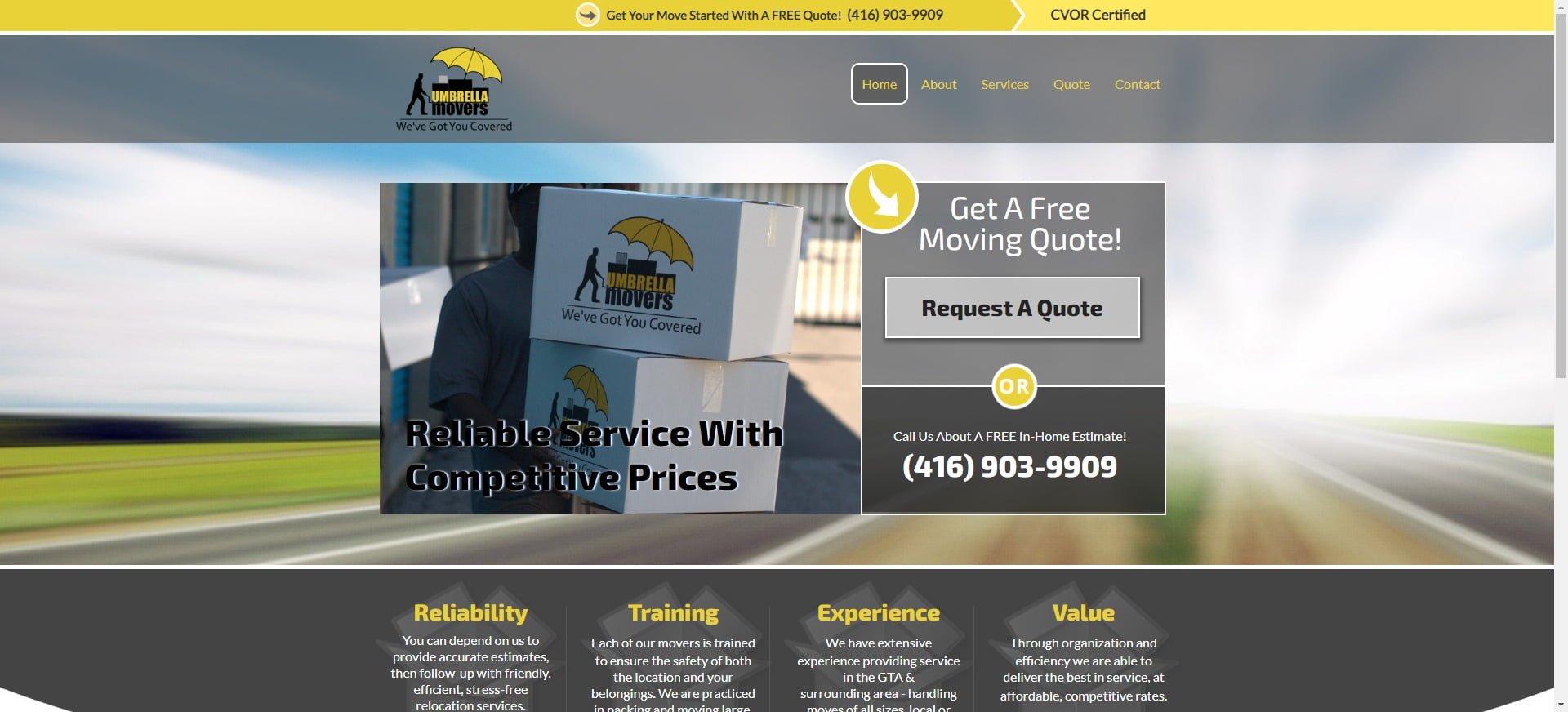 | | |
| --- | --- |
| SERVICES | Residential & Commercial Moving Services |
| WEBSITE | https://www.umbrellamovers.ca/home.html |
| ADDRESS | 25 Crouse Rd #1003, Scarborough, ON M1R 5P8, Canada |
| CONTACT DETAILS | Phone: +1 416-903-9909 |
| OPERATING HOURS | Monday to Sunday: 9 am-9 pm |
The safety of your belongings holds topmost priority for the Umbrella Movers. They are known to provide top-notch moving services to customers in GTA and across Canada where all your moving needs and concerns are taken care of.
All you have to do is book a move with them and you can leave the rest for them to take care of it and still be sure it's in safe hands. They are big on delivering exceptional value and so they train their workers to become valuable assets not just to the company alone but to the customers as well.
Their customer support system is always there to attend to all your queries and requests. The response is fast, accurate, and helpful. The Umbrella Mover is a beautiful choice if you want a company that takes safety seriously and personally.
7. Max Moving Corporation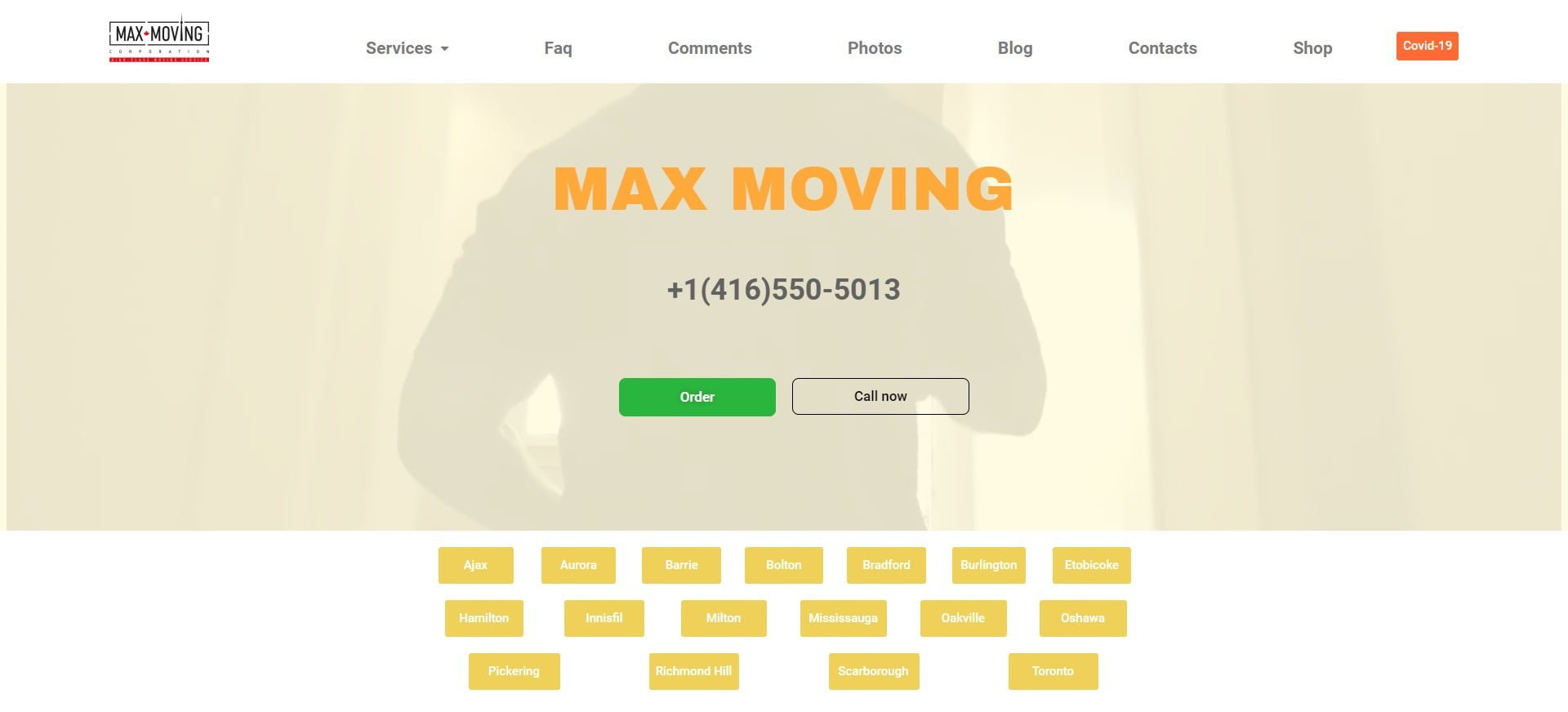 SERVICES

Commercial Services

Local Moving

Virtual Consultations

Piano Moving

Furniture Moving

Long Distance Moving

Packing, Unpacking, & Crating

Storage Services

WEBSITE

http://www.maxmoving.ca

ADDRESS

12 Goldfinch Court Unit 302 Toronto, ON M2R 2C4 Canada

CONTACT DETAILS

Phone: (647) 408-6684, +1(416) 550-5013

Email: info@maxmoving.ca

OPERATING HOURS

Monday to Sunday: 8 am-10 pm
Maxing Moving Corporation is a professional moving company that's registered, licensed and insured under the appropriate moving authorities in Toronto and they have been providing moving services to the amazing people of Canada for years now.
They've won and received dozens of recognitions and awards congratulating them on the excellence and quality of their service and how many of their customers have voted for them as one of the finest movers Toronto has ever seen.
It doesn't matter the size of your project, big or small, max moving corporation will always step up to the challenge. They do local, long-distance, residential, and corporate moves, among others.
Their ultimate goal is to always leave you feeling better than you were at the time you were hired and to achieve that they work hard to make every move quick and enjoyable for you.
8. Toronto Carlton Movers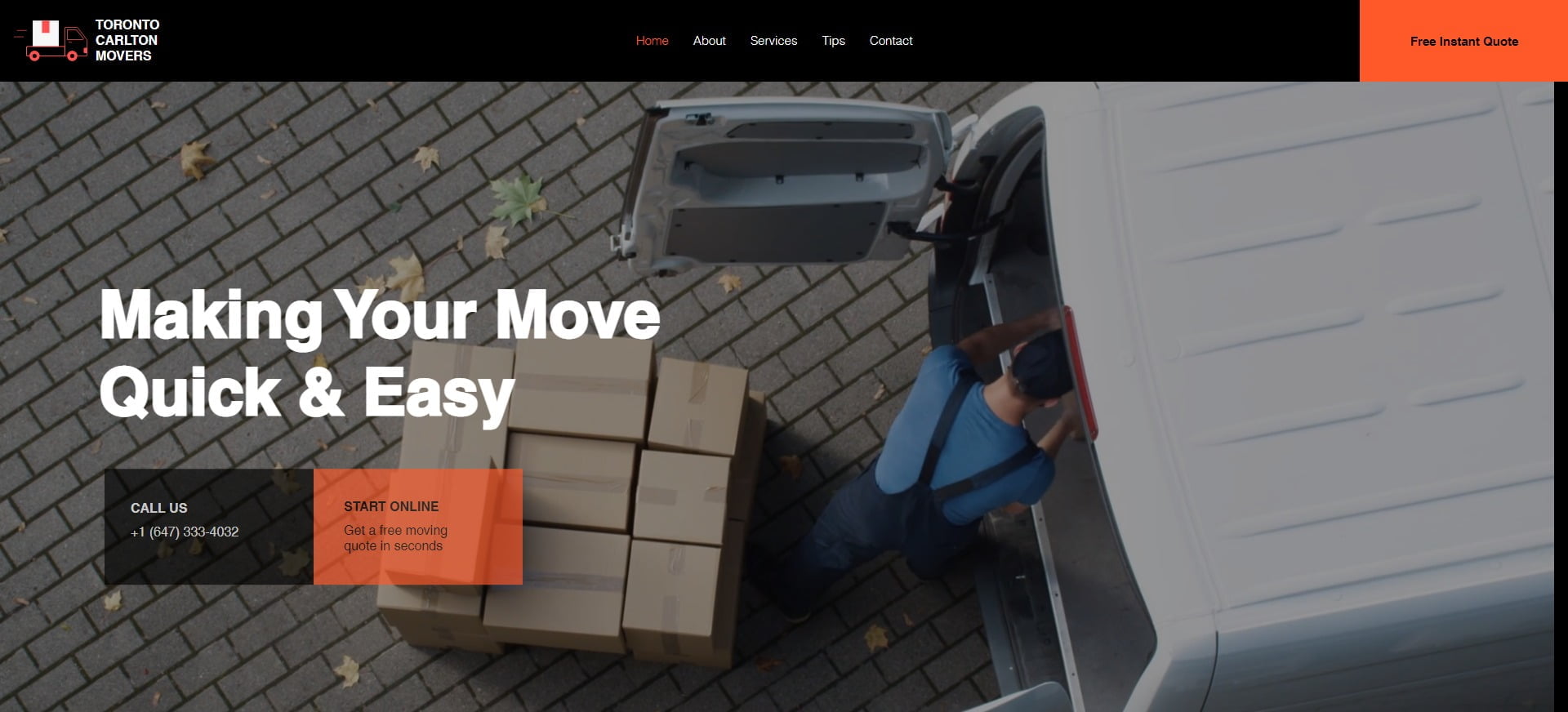 SERVICES

Furniture Assembly

Large and Heavy Item Moving

Long Distance Moving

Unpacking Services

Piano Moving

Furniture Moving

Local Moving

Full Packing Services

Packing, Unpacking, & Crating

WEBSITE

https://www.torontocarltonmovers.com/

ADDRESS

155 Tycos Drive North York, ON M6B 1W6 Canada

CONTACT DETAILS

Phone: +1 (647) 333-4032

Email: Info@TorontoCarltonMovers.com

OPERATING HOURS

Open 24/7
Toronto Carlton Movers offers an amazing all year round moving service to their customers because to them, a move can happen at any time and so to make sure they are always top of mind for their customers, they leave their doors open every day of the week.
The best part about Toronto Carlton Movers is that you are the one who decides the cost of your move. The hourly rate covers any size moving truck, insurance for your belongings, and all moving supplies necessary to add to the positive experience of the move.
Their moving process is very simple that you might find it hard to believe that that's the process they follow for every move:
First, you make an appointment and book a service. Second, they pack your goods nice and professionally. Third, they move the goods to the desired destination, and finally, they help you unpack and you can enjoy life in your new location (it can be a home, office, etc.)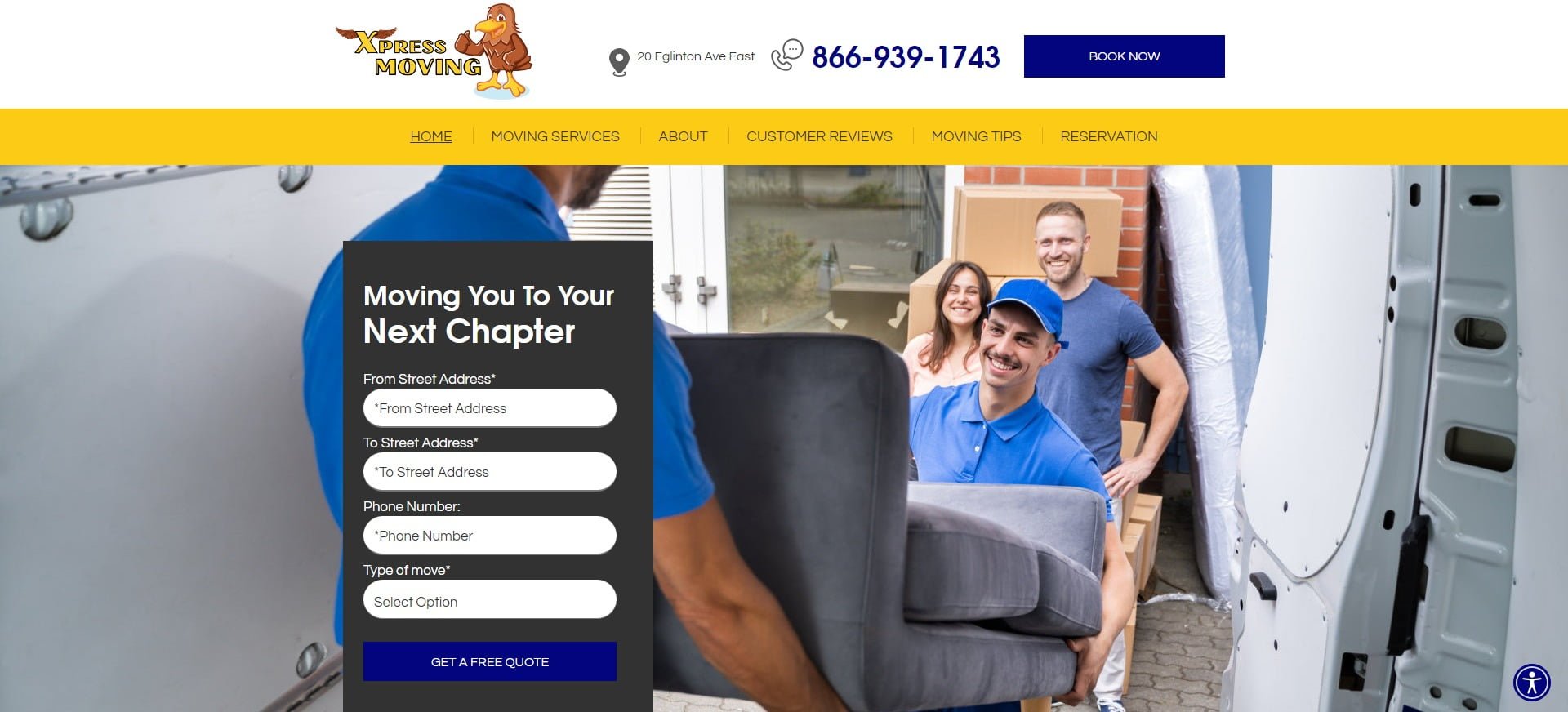 SERVICES

Commercial Services

Furniture Moving

Local Moving

Virtual Consultations

Piano Moving

Storage Services

Furniture Assembly

Large and Heavy Item Moving

Long Distance Moving

Packing, Unpacking, & Crating

Senior Moving

WEBSITE

https://www.xpressmoving.ca/

ADDRESS

20 Eglinton Ave E, Toronto, ON M4P 1A6, Canada

CONTACT DETAILS

Phone: +1 866-939-1743

Email: xpressmoving@hotmail.com

OPERATING HOURS

Monday to Sunday: 8 am-8 pm
If you are relocating to or from the Greater Toronto Area and you are looking for a mover to help you out, Xpress Moving Toronto has you covered! Right from the point of booking down to the actual move itself, Xpress Moving Toronto works extra hard to make sure you have no reason to complain or worry.
They literally take your demands and make them theirs thereby giving them that zeal to go above and beyond to make you happy at the end of the day. They charge by the hour because they believe with that type of payment structure, there's transparency and fairness.
This hourly fee covers everything from the tools they use during the move, the supplies they bring, the trucks, and even the insurance when accidents occur. Everything is in the hourly fee so you are just paying once and you can leave the rest to the staff of Xpress Moving Toronto.
With these guys, there's no extra charge for any extra work. Take for instance getting to your new home or office and you need help to move a heavy appliance, all you will have to do is ask and they will gladly help without asking for anything in return.
And did I forget to mention that they charge in 15 minutes increments to ensure maximum fairness? There's no way you will ever go wrong if you decide to go with Xpress Moving!
10. Rawlinson Moving & Storage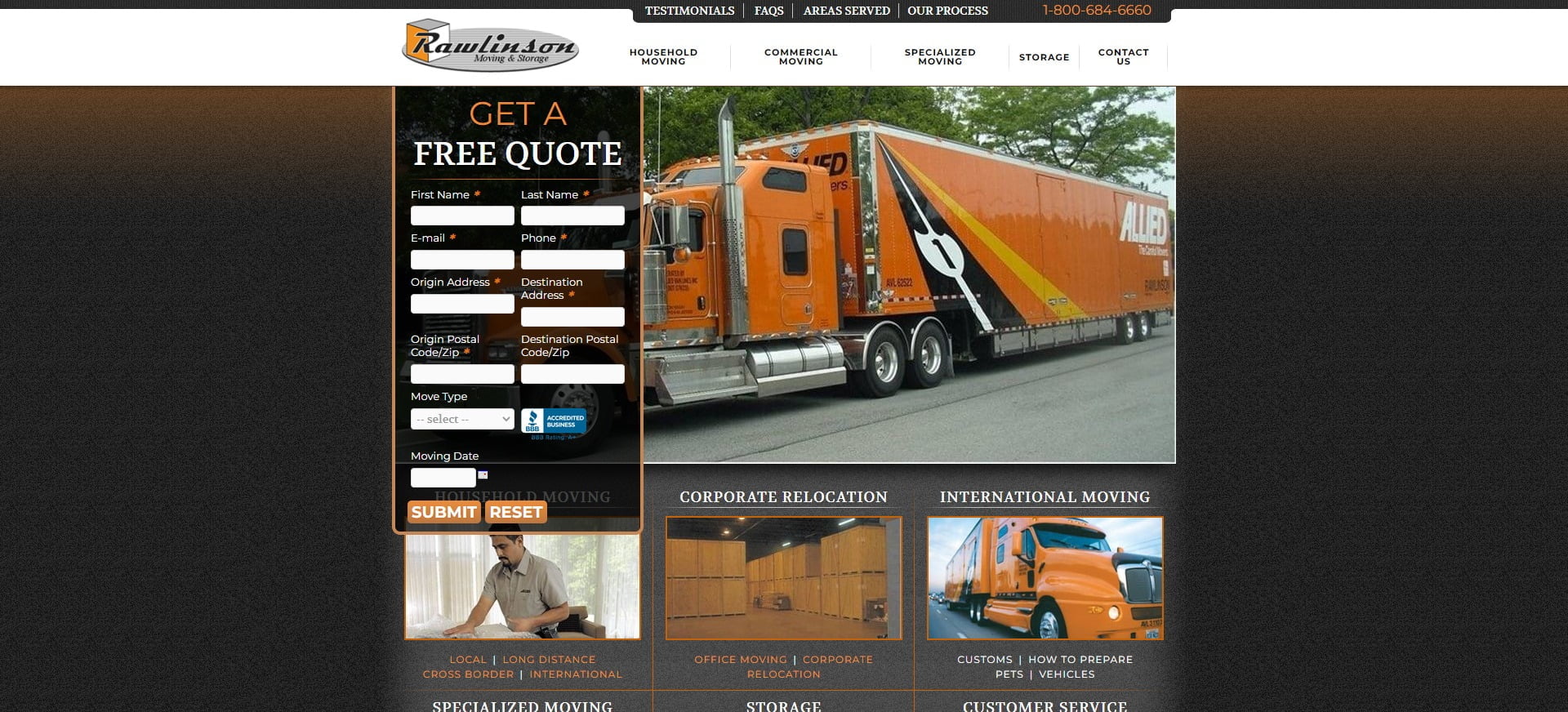 SERVICES

Household moving, commercial moving, specialized moving and storage

WEBSITE

https://www.rawlinsonmoving.com/

ADDRESS

1024 Westport Crescent, Mississauga, ON L5T 1G1, Canada

CONTACT DETAILS

+1 905-364-1400

OPERATING HOURS

Monday to Friday: 8 am-6 pm

Saturday & Sunday: Closed
If a dedicated, experienced, and reliable Mississauga moving company is what you are looking for, then look no further because you've come to the right one!
Rawlinson Moving & Storage is a full-service moving company with the resources to handle the moving needs of residents and businesses in Toronto and surrounding areas via local and long-distance moves. They also offer up their storage facility for short and long-term moving solutions.
They are licensed and fully registered with the appropriate official moving authorities and are a proud agent of the Allied Van Lines. Their track record of outstanding customer service has made them an option worth considering.
Their main goal is to see to it that every move you make is as stress-free, enjoyable, and exciting as possible, and by the end of the move, you will still have energy and time to embrace your new location, take a walk around the house, and feel right at home.
Things To Consider Before Choosing Appliances Movers in Toronto
Scheduling
You have to, first of all, make a schedule with the mover ahead of the move so that you will be included in their booked appointments where they will be able to attend to you in due time.
The reason why you must schedule ahead is basically because of the fact that most moving companies get overbooked sometimes and so to get on their list of appointments for that month, it's ideal you make a schedule ahead.
Transportation
Second, you'll want to consider their transport system and how good their vehicles are on the road. You can get all the information related to the quality of the company's transportation from past customers that you know.
The whole idea here is to make sure that the mover you eventually choose to go with has the transportation that can accommodate what you want to move. If you are moving small items, go for companies with small cargo vans while if you are moving a large appliance, a moving company with large trucks and vans will be the best choice.
Types of move
Also, you'd want to find out if the moving company services reach the distance to be covered. Most companies have long-distance moves as part of the services they provide but nevertheless, try to confirm that they can get you to your destination specifically before having them come to pack your belongings.
Service coverage
No two moving companies are the same. The service one may provide may be similar to the service the other provides but there might be a little variation.
Some moving companies just make the move and offload your belongings and that's all while some help you throughout the move from start to finish and even provide storage services if the need arises. So you must be clear on the type of service you want and communicate to the mover beforehand.
Credibility & Reputation
What are other people saying about the mover you intend to hire? To verify the moving company's credibility, you can look up their business licenses to see if they are accredited by the right authorities.
Their reputation, on the other hand, can be found using online forums or Google reviews to see what previous and existing clients are saying about them.
Pricing
Price is a very important factor to consider when making a move. To avoid getting overcharged or losing account of your expenses, always have a set price and check any of the companies from above if anyone provides the service you want at that price you can afford.
Also, always mix into your budget an emergency plan in case things go awry so you don't get stranded with no way out (but it rarely happens.)
How To Get Yourself Ready For A Move
Mark the exact date of the move on your calendar.

After you have the date picked, reach out to the mover to get a slot in their rather busy schedule.

Pack on time and make sure similar items or objects go into the same box and are properly labeled to prevent misplacement or accidental damages.

Compare your budget with that of the company's pricing plus also include extra costs that may pop up along the way during the move.
Frequently Asked Questions
The average of movers in Toronto is about $50 to $80 per hour per mover.
Large appliances need to be handled with care and utmost professionalism during any move to prevent scratching the floor and damaging your rugs or damaging any parts of the appliances. This video shows you how to move large appliances without breaking a sweat.
The cost of moving a fridge in Toronto ranges typically from $150 to $250. Although, professional movers may charge per hour or according to the weight of the fridge.
That brings us to the end of this article and I hope we've been able to help you narrow down your list of appliance moving companies to the best 10 you will ever find in Toronto.